Americans love to vacation in or near the water and don't necessarily go in the summer months anymore. Remember the days when the neighbor with the pool was pretty popular. There may have even been a Community Pool in the neighborhood where the family could escape the summer heat right down the street where you lived. Now there have been huge advances with Aquatics making things possible that were never possible before.
Aquatics have made backyard swimming a thing of the past. Water parks with the new enclosures now can be enjoyed all year long.
The new materials used in the construction of water Parks can house vacationers from across the Country in any weather. The best indoor water parks in the country are built with the mom and dads in mind along with the kids.
New luxury hotels with expert accommodations, catering to the adventurer who likes action type thrill rides, but who also enjoys the finer things in life. The new Indoor Water Parks offer the best resource in a family-oriented vacation without having to travel to warmer weather states in the US to find them.
With hundreds of millions of visitors each year, ultimately it brings some statistic that is not what a parent wants to see from a place that can bring such happiness and fun for memories to come.
Drowning, falling, diving, chemical use, and suction injuries continue to be major public health injuries associated with AQUATIC FACILITIES. So keep it safe!
Drowning is a leading cause of injury death for young children ages 1 to 4, and the fifth leading cause of unintentional injury death for people of all ages. These aren't statistics on Indoor Water Parks alone but are calculated in now because of the huge impact of Water Parks and how many people they draw in every year.
Because Water Parks are relatively new and the amount of people and water at the facilities is something that health officials have never seen before the record-keeping is also new. Water is still cleaned the same ways as it has been for years, now it's just on a huge scale. better care and management will be needed in the future.
Water Park Safety Tips
The Indoor Water Parks should also include ongoing Safety programs that report and play a key ongoing role in Indoor and Outdoor Water Park business. You should check to make sure they are doing their job by:
Inquiring about the number of Certified Life Guards available onsite
Inquire about the Water Parks Safety History.
Check the 42″ rule for the size of children is enforced-and posted at the entrance of each ride Especially if you are bringing young children.
Life Jackets should be available for every ride and rules are being enforced.

Purchase a dependable Certified one for your young children so you never are without one.

Always watch your kids. Walk don't run. All Waterparks are reliable and have rules and regulations. Obey them and have a great time.
Children in diapers should be dressed in waterproof swim diapers to minimize leakage. Change diapers only in designated changing areas.
Read the signs at every waterpark attraction and listen to all audio instructions provided by recordings or staff. Obey all rules and experience-level guidelines.
Try and teach your kids this: Do not swallow the pool water. Try to avoid getting water in your mouth if possible.
Take your children to the bathroom often throughout the day. For more than one reason. Do It!
My Grand-Kids wear water shoes and hydration bags that they can lose- if it comes to that. No Big Deal!
Water Parks and how they are operated safe and secure is a new field and will take a while for the methods of best practices. This is not to say the Parks aren't safe. For the number of people that go to these pools, it kind of took regulators from government safety agencies by surprise. I took my grand-children away twice last summer and both of amusement parks I went to had Indoor or Outdoor water parks. It's our job to pay attention to them even if you think that they are in a controlled situation.
 Indoor Water Parks with Hotels Near Me
Eastern USA        
   Aquatopia
 Indoor Water Park 
Camelback Lodge & Indoor Waterpark
www.camelbackresort.com
193 Resort Dr, Tannersville, PA 18372
(855) 515-1283
Open 24 hours
Located in the heart of the Pocono Mountains in beautiful Pennsylvania is a gem of a water park called Aquatopia. I am partial to this one because my family lives real close. We love it.  Considered one of the best indoor water parks on the east coast. The park is family oriented and was voted by USA's Today as the # 1 Indoor Water Park in the country. Highlighted by 13 amazing water slides with the longest water coaster in the America called Storm Chaser.
The park holds the distinction of you being able to surf and snow ski on the same day. Covered by the biggest texlon roof in the country, you'll feel the sun's rays all year long. Adults will enjoy the indoor swim-up pool bar called Flyboys.
Aquatopia also boasts seven large indoor pools. With activity pools from zero-depth for kids to an adventure river and a gigantic, action-packed wave pool, there is splashing fun for the entire family.
Located at Camelback Lodge which is one of the nicest hotel and retreats in the Pocono mountains. When you stay at the Lodge, the tickets to the Aquatopia Water Park are included. Camelback Lodge & Aquatopia Indoor Waterpark are open year round simply contact our helpful customer service representatives
at (855) 515-1283 to book your reservation.
​
West USA     
The Great Wolf Lodge
 Indoor Water Park​
20500 Old Highway 99, SW
Centralia, WA 98531
Reservations: 800.640.9653
Resort Direct: 360.273.7718
Fax: 360.273.8406
The Great Wolf Lodge offers indoor and outdoor water parks with 11 water slides and 4 pools. It is oriented to young and old for a family experience. Your stay includes access to the enclosed 84 degrees year round temperatures and for guest shorter lines to make it a more pleasant experience.
Some of the attractions include the super cool raft ride called the Howlin Tornado that end with a 6 story drop off funnel into a splash down. A Water Tree Fort that caters to younger toddlers. River Runs and A Toboggan race slide and Cabanas to rent for the family so you can rest you and take breaks during the course of the day.
The water rides are age marked and monitored for safety. It looks like there is something for every age group. The Loge, one of the most largest indoor water parks in the US, also includes a health spa called Iron Horse Fitness Center and health spas for adults and the children.
The Elements Spa offers massage therapy sessions 30-60- minutes sessions. There are all kind of extra stuff for the younger kids to do like interacting attractions, crafts games and balloon twisting. The Howl Wood XD Theater provides movies that are motioned enhanced for fantastic effects.
There fine dinning experience together for adults with the Wine Group. Where a bottle of special wine can be picked from the menu and ordered through room service.
Along with restaurants that cater to the kids. There is also a Dunkin Donuts and candy shops, souvenir and gift shops.
​
​
Mid-West USA   
Wings & Waves Indoor                                        Water Park
460 Northeast Captain Michael King Smith Way McMinnville, OR 97128
The multiple-level water park structure is located just inside the Waterpark's 40-foot-tall windows, taking in all of the beautiful light and vineyard views of the Museum Campus. Topped with a helicopter and themed like an Oregon forest, be prepared to have 300 gallons of water splashed on you from the huge firefighting bucket themed like an Oregon forest.
Wings and Waves feature 10 water slides with aviation themes. They run from the daredevil extreme to the mild slides for the younger children. The attractions include the Sonic Boom that is built with aviators in mind. The ride starts from the cockpit of a 747 Evergreen airplane.
A 91,000-gallon wave pool with a 20-foot high-resolution movie screen built between two NASA rockets. The movies feature splash-down of space capsules. Nose Dive is a quick drop thrill ride for older kids. Rooms to rent for parties that are themed towards Marine life and boats and the aviation popular theme. An Aviation and Space Museum called the Evergreen Aviation and Space Museum.
It offers educational movies, lessons and even a flight simulator. School visits and teacher resources are offered here. Its mission statement is to promote and preserve Aviation and Space. All this and a huge Indoor Water Park too. Dinning at the Milky Way Café offers even more educational opportunities with great food. The park offers many discounts besides active military passes, AAA, and student discounts.
North USA
WaTiki Water Park &                                 Resorts 
1314 North Elk Vale Road,
Rapid City, SD 57703
605-718-2445
info@watikiwaterpark.com​
With over 30,000 square foot of indoor pools and slides the WaTiki Water Park and Resorts is the largest indoor water park in the Dakotas. The park is home to four hotels, Sliders Bar, Marco's Pizza, Starbucks, and a huge arcade. The park has an escort called Ko Ko who hails from Hawaii and keeps the young kids entertained while enjoying the tubular water slides. Sliders Bar a sports bar with 10 foot TV screen has a water slide that runs right through it.
Other restaurants like Marko Pizza, Perkins Family Restaurant, and Starbucks are all conveniently located in the water park not far away. A huge arcade for the kid in everybody. With new and classic video arcade games along with shooting games and air hockey that can be rented out for parties and events.
WaTiki is a family-oriented safe environment that offers three huge slides that tower over the park a Wade Pool and Lazy River and Tube ride that runs around the entire park Winter prices are slash down. WaTiki holds their own New Years' party that the kids are sure to have fun that includes a dinner buffet a movie and live entertainment.
The park is nestled on the eastern edge of the Black Hills for incredible views of the Dakotas. The Black Hills offer many interesting places to visit that are educational. Mount Rushmore Monument are open all year 7 days a week. The Outdoor Campus that offer free educational hands on classes from Fish and Wildlife experts along with wildlife exhibits.
With 4 Hotels to choose from at the park, you will find all the amenities you'll need for a great vacation. WaTiki Water Park is a short distance form the famous Bike Week at Sturgis. The Home2 Suites by Hilton offers Bike Week patrons a complimentary breakfast and bike wash along with discounted tickets to the Water Park.
​General Admission is $14.99per/day and a Spectator Pass is $4.99per/day
South USA
Wilderness at the                                          Smokies Water Park
1424 Old Knoxville Hwy, Sevierville, TN 37876
Website: wildernessatthesmokies.com 
At 125,000 square feet and 84-degrees year-round, Aquatopia Indoor Waterpark is the largest and most action-packed water park on the East Coast. While outside food & drinks are not allowed in Aquatopia, there are plenty of options to refuel and refresh inside the waterpark.
Flyboys has the unique swim-up bar of all the Pocono resorts with an indoor pool, Colonial Commons offers quick fare that allows you to dine & dash, while Moroccan Nights offers the best view of Aquatopia's fun water playgrounds. first class features for poolside amenities with a private host, ceiling fan and TV in your own cabana. The Pocono Mountain resort has excellent reviews and rating from happy customer from all over the United States.
Swim Up Bar and Spa
Personal Food & Beverage Service
Private Cabanas
Texlon Transparent Roof, Allowing Year-Round Sun Tanning
Live Bands and Entertainment with Fine Dining
Saving and Package Plans are available
All kids 2 and under are free
Admission: Daily Rates are $59. 00
Discount programs for our Veterans
The Great Wolf Lodge has an Indoor(84 degrees year round-80,000 square foot of fun) an a Outdoor Water Park. Coolers, pool chairs and life jackets are available. Lockers are available for a minimal fee. Wireless internet is available throughout the park.
Our hotel public spaces, accessible rooms, and water park decks are ADA compliant. Temporary use of wheelchairs are available through Guest Services on a first come, first serve basis.
There is a fitness center-Rollaway and Aero beds are available also RV's are allowed on the premises. Great Wolf has great reviews and rating from customers all over the world.
Suites for overnight stays run from standard to luxury and kids have tent themed rooms and bunk beds. Some with cabins inside to enhance the experience. They run special rates of up to 30% off from 8/18-11/15 2018 to take advantage of.
Special Rates for Vets -Special rates for booking in advance.
Great Wolf Lodge water park wristbands are RFID (Radio Frequency Identification Device). for park and hotel room
Allows RV parking to registered guest.
Standard rooms start at around $179.00 per/night
Life Jackets (Coast Guard) approved are provided to children who need them
Wings and Waves Indoor Water Park has a Dry Pass for people who just want to come and enjoy the museums and attractions that cater to education or want to watch their kids using the water slides. $10.00
An Under 42″ Pass that will offer exciting activities for the youngster like the Wave Pool and several others. $20.00
An Over 42″ Pass will allow you full access to everything at the park. for $29.00
Disabled Pass is 50% off on Friday- Caretakers get in free admission
Firefighters-free-and their family 50% off throughout September
Twilight Fridays offer 50% admission after 4 pm on   Fridays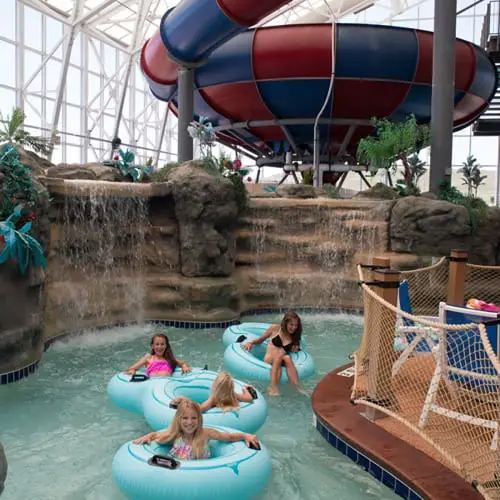 The WaTiki Indoor Water Park is the best indoor water park for adults. opened all year long is 30,000 square foot of room and park has a 635 person capacity.
Located to Sturgis Bike Week. The park stays at a comfortable 84 degrees year round. The rides have a 300 lb. weight limit. If you want to kick back and just watch the kids you can buy a Spectator pass for just $4.99.
Wilderness at the Smokies is a luxurious vacation and meeting destination.
Wilderness At The Smokies Waterpark Resort is a whole new concept in FUN for your Smoky Mountain vacation and the best part is that our waterparks are included with your stay!
LODGING: Stone Hill Lodge, which is connected to the Sevierville Event Center and Salamander Springs outdoor waterpark, has over 240 gorgeous hotel rooms with several room-style options available. When staying at Stone Hill Lodge you receive access to all resort waterparks and amenities.
*Please Note: All rooms are Non-Smoking and Pets Unfortunately are Not Allowed.
There is plenty of things to do here beside the Water Park. Golfing, shopping and restaraunts. Looks like an great place to take the kids during the long winter months that lie ahead. They offer 15% off during the winter months from now till March 7th.
Wilderness at the Smokies Waterpark Resort and Family Adventure Center is a luxurious vacation and meeting destination. Wilderness is a whole new concept of FUN for your Smoky Mountain vacation! Our Waterparks are Included with Your Stay!
Wilderness is home to the Wild WaterDome, Tennessee's Largest Indoor Waterpark, which features a see-through roof that will weather-proof your vacation and give you the opportunity to tan inside all year long.
Along with year-round indoor waterpark fun, you will find two outdoor waterparks right outside your guest room door! And remember to check out the Adventure Forest dry, family adventure center. Featuring a 3 story ropes course, multi-level laser tag, blacklight mini-golf, mega arcade and much more!
The Wild WaterDome is the largest indoor waterpark in Tennessee! It features a see-through roof that allows you to tan year-round. Inside this 66,000 square foot, state-of-the-art waterpark there is a wave pool, a multi-leveled water play feature, indoor surf rider, scream-tastic waterslides, and two family raft rides.
All public pools and Water parks are under the watchful eye of the State enforcement Health Agencies in the State they are located in. They do a great job keeping up with a huge amount of information. This information and the best practices for the Water Parks are fairly new and created in the early 2000's. 
These Indoor Water Parks have great reputations for being safe and clean. Public users of the parks have rights that oversee the pool operators to request information on the business. So you can call ahead and as them questions about safety records or Health Records of the Pool and the Park which they are supposed to carry by law and should be happy to oblige you. As you can see these Water Parks are popping up all over the country.
They are catering to adults too. Why not? The restaurants are first class I know from Aquatopia in the Poconos Mountain the food is excellent and the place has something for everyone. It is true you can snow ski in the day and learn how to surf in a wave pool that night. 
There are links in your state or the one you are travelling to for your vacation that will provide you with that States Specific Healthy Swimming Resources, such as pool code information, beach monitoring, water quality programs, facts on recreational water illnesses (RWIs), and contacts for local public health authorities.
Don't let your child swim if he/she has diarrhea or is sick. You need to practice what you and everyone else is preaching. Together we can try and Keep everyone safe, and FOR goodness sakes, ask questions.
Jim has over 30 years' experience in Water/Wastewater Treatment and Water Filtration Business. He has written over 300 articles on the Worldwide Water Situation.