The very best in Home Filtration Units are available for 2020-2021.  The multi-stage Gravity Reverse Osmosis Water Filters, now are even more stylish and come in kitchen countertop units that are attractive and colorful. They can remove most Contaminants and adjust drinking water to Taste, PH, Alkalinity, and are superior quality water filtration for the home. What is the Best Countertop Gravity Water Filter
The Zip Countertop Reverse Osmosis Water Filter
The Big Berkey
The AquaTru Countertop Water Purification System
These Gravity type water filters can be the alternative to Countertop and Under Sink Reverse Osmosis water filters that were bulky, hard to install, and hard to look at. The Old Reverse Osmosis filtration units worked well but lowered PH and took important minerals out of the drinking water along with removing contaminants and stripping fluoride.
The new lines of the best Gravity water filters and the best Water Filters Pitchers recover or replace healthy trace minerals like calcium and magnesium in your tap water, strip away contaminants but save taste and in some cases save money by operating without the need for electric. The new RO filters are easy to change. The first Dispenser type filter is called the ZIP Countertop Reverse Osmosis Water Filter.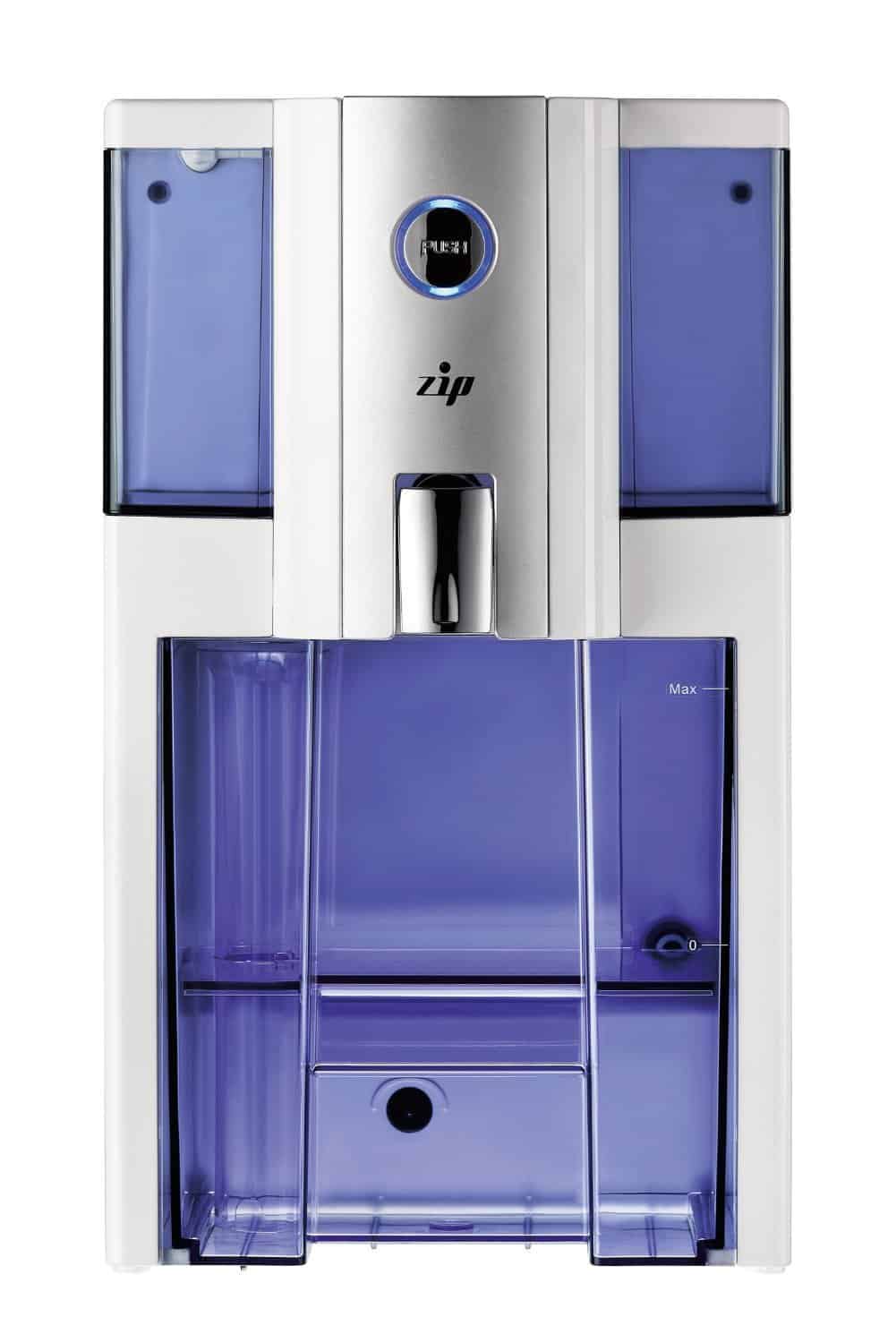 Pros & Cons
Because of the removal rates and the PH adjustments the Zip takes Reverse Osmosis to another level. This improvement makes it one best types of water filters. Not many Cons here except maybe the price.
The others are not powered like this guy. But This unit is a great alternative to the standard under sink reverse osmosis filters or bulky countertop RO filters with the taste not suffering from the great filtration process.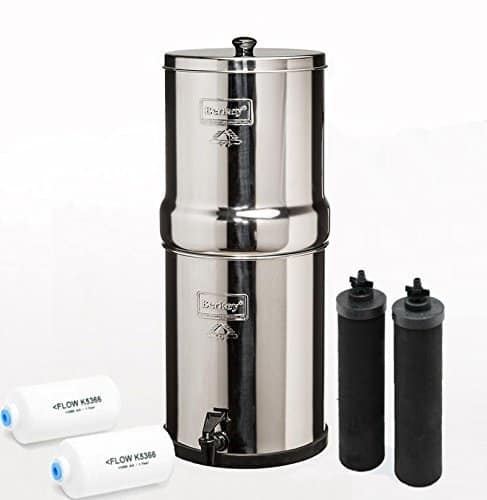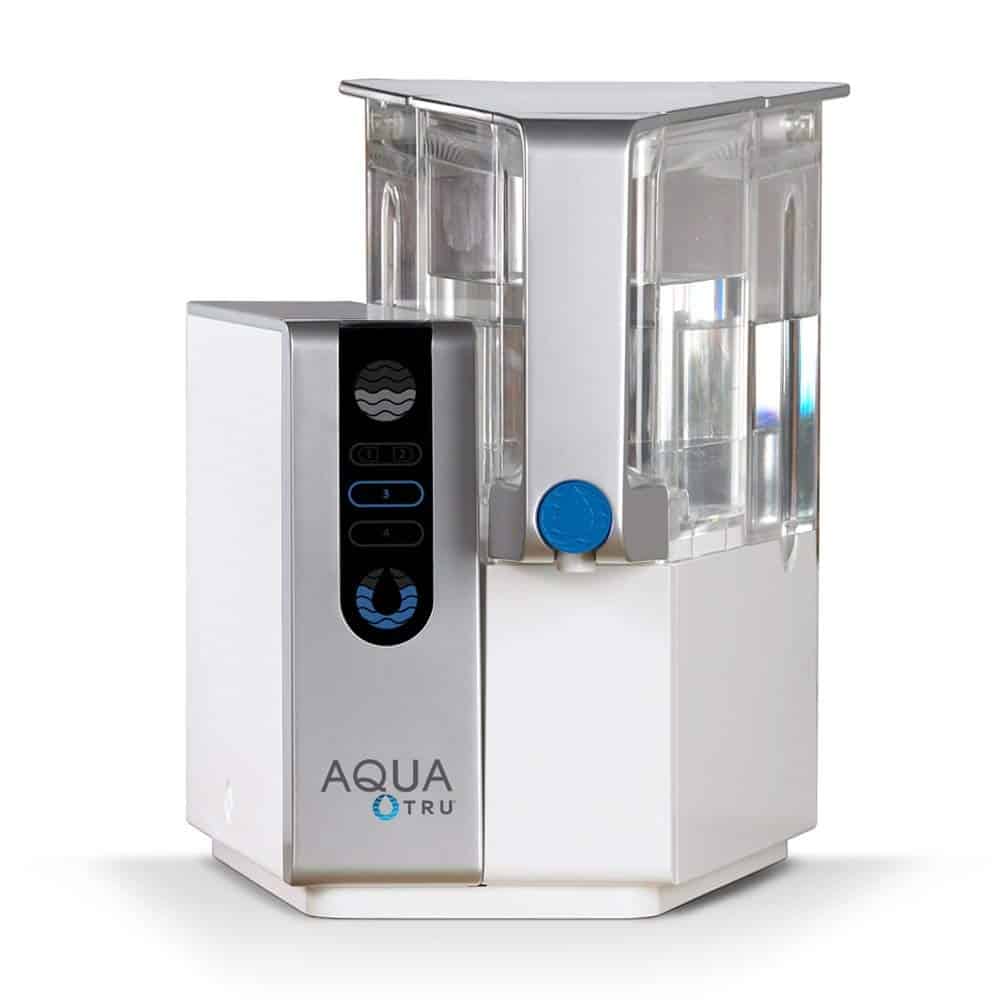 The Zip Countertop Reverse Osmosis water filter
is a superior tabletop unit with 0 assemblies to deal with. Just take it out of the box and fill the reservoir to the fill line from the tap. The booster pump and RO filters are located inside the unit that is a stylish tabletop model. Press the blue button and the water from the tap at the top of the filter will run out to the bottom reservoir and automatically stop when complete. Really easy operation.
The storage reservoir holds about 2 liters of tap water. The capacity is approx. 280 liters a day. The models come in three colored designs. Because Zip is a gravity type countertop water filter it doesn't have to be hooked up to any plumbing like regular reverse osmosis countertop water filters.
It's an elegant addition to any kitchen or office space. When you move its easy for the Zip filter to move. To change filters is very convenient there are no tools required. Unlike most reverse osmosis filters there is no waste. Removes up to 99% of all contaminants'. Fluoride, Chlorine, Heavy Metals & others. It's the best water filter to remove fluoride and chlorine.
4 stages of advanced filtration:
Stage 1 is a five-micron Sediment Filter.
Stage 2 is an Activated Carbon Block filter.
Stage 3 is the heart of the reverse osmosis system, the RO Membrane.
Stage 4 is a high-quality Alkaline Post Filter. It returns beneficial minerals to water – Calcium, Magnesium and increases water Ph to alkaline level make this one of the best filtration processes.
ZIP is designed to remove unpleasant taste and odor, chlorine, fluoride, arsenic, lead, chromium(-6), TDS – total dissolved solids, pharmaceuticals, pesticides and many other contaminants commonly removed by a reverse osmosis system.
Efficiency – ZIP only uses 24W of power less than a lightbulb and has 50% (1:1) recovery rate – best among reverse osmosis filters.
​
​​
is a super simple design with 2 carbon filters in the vessel and room for 2 more for increased speed of filtering. It comes with the 2 Black Berkey filters & 2 Fluoride Filters standard 2.25 gal. capacity for a family of 4. You can use tap water, well water, rainwater, or even river water just to fill the vessel up. The Berkey stainless steel water filters use no power just gravity so it's great for camping or off-grid travel.
It also comes in 3 different sizes with the largest capacity being the Crown Berkey that holds up to 6 gals. of purified water. Their powerful filters are rated a 2 cents per gal. The filters last up to 6,000 gals and remove viruses and bacteria, It also includes the PF2 filters for fluoride removal again as an alternative to the best water filters that remove fluoride and chlorine without the headache of the RO filters and the assembly that comes with them.
Pros & Cons
Because the unit is a gravity water filter and is also a portable water filter. This gravity water filter vs other types of reverse osmosis filters wins because of the overall cost savings and the assemblies that in some cases RO filters will incur with the cost of a professional plumber. They used to be kind of complicated to hook up and then change filters.
The Berkey has some limits on construction (there were a few complaints about the spigot leaking) on the can that most customers had a problem with. But in the long run, The Big Berkey also shows how to remove fluoride from tap water cheaply. Fluoride is a big concern these days, Of all the water filters that have come out in the last few years, the Berkey is my favorite. The fact that it uses RO filters and can be used indoor or outdoor along with the price sold me. Check out what this filter is capable of doing and you'll be impressed too.
Zero Installation Purifier Countertop Reverse Osmosis Water Filter
claims 4 stages of reverse osmosis technology with no plumbing or installation involved. This countertop water filter is certified by NSF to comply with strict standards to remove 15x more than filters in their class of pitcher water filters. Nasty things like Lead 99.1%, Chromium 97.2%, Copper 95.2%, Fluoride 93.5%, Radium 96.4%, and Chlorine 96.6% (to name a few). In fact, AquaTru is designed to remove 1000's of pollutants that could be lurking in your tap water.
Taste the Difference! The countertop water filter claims bottle water taste but there are some complaints overall about it stopping while filtering. Others give it 5 stars on purified water delivery and speed.
The system uses: Stage 1 mechanical pre-filter Stage 2 Reverse Osmosis Pre-filter Stage 3 US made reverse osmosis membrane and Stage 4 activated carbon filter. The trusted countertop RO system costs considerably less than under the sink RO system and takes about 3 minutes to assemble. This filter has a few complaints so check it out before you buy it.
Pros & Cons
The AquaTru has seals of approvals from NSF and IAPMO which are the certifies lab and agency that do the testing. The filters last from 6 months to 2 years and there is an easy installation. Some people give it 5 stars a few had complaints with the operation. See it for yourself.
Most of these home Distillers Filters come with a glass pitcher for finished water. They will make 1 gallon of finished water then it's passed through a carbon filter to polish it further.
The prices are all mid-range and fairly comparable. The units have a good reputation as durable products with a year warranty or more on the ones we looked at.
The Waterwise 3200 makes 1 gal. in 4 hrs. and has a coconut shell carbon filter for polishing. The carbon filter has a great reputation in other applications. This filter uses different types of water purification processes, needs no electricity, can heat the water to the required temperature, and can be used anywhere anytime.
It is made from stainless steel and delivers up to 16 gallons a day which beats the other electric models' hands down as far as working load. The other units are dressed up like Waterwise 3200 with great looks for the kitchen countertop. It ranks high in water distiller reviews.
https://mywaterearth.com/how-long-can-you-store-rainwater-for-drinking/
All the Distiller Countertop Water Filters, produce pure water by one of the oldest methods. Boling the liquid to 212 degrees and catch the steam. By doing this you can assure all organic bacteria, cyst, and viruses are killed.
As the boiling water converts to steam, it rises and leaves behind dead microbes, dissolved solids, salts, heavy metals, and other contaminants. Low boiling light gases that may be present are discharged through the gaseous vent.
Steam is then cooled in the stainless steel condenser, turning it into high purity water. Distilled water percolates through a final polishing carbon filter for adsorption of VOCs and a clean pure product. Sterilized water.
I have dealt with water filtration products for a while and found for the price and what it does, how it performs,  the Berkey is simply the best filter on the market today. I have the Big Berkey and can easily say-it is simply the Best!
The new Dispensers that produce Alkalinity and replace minerals after removing contaminants with Reverse Osmosis are more expensive but worth the price.
Alkalinity in water is being linked to the fight against cancer. This may have huge benefits in future lifestyles and water filtration products for the home. Stay Tuned.
Water that families use for drinking at campgrounds and isolated areas around the country where there is no Municipal water supply or EPA standards relies on the owner of Private Wells for safe potable water supply. The standards are somewhat different for private Wells around the country. To be safe, EPA recommends that Campers and RVs have their own treatment system. Read our article called What are the Best RV Water Filter Systems
Jim has over 30 years in the Water/Wastewater and Water Filtration Business & Consulting. He has written over 300 articles on the World Wide Water Situation.