Who is the most famous fish that ever lived? There are a few that definitely make the ranks. Whether on TV or the Big Screen there are some Fish that have made a dent in American Pop Culture. Movies, TV shows, or storybooks. Who were the most Famous Fish?
Everyone has a favorite fish, but I got to go with the fish that is the greatest movie of all time no not Mr. Gill in What about Bob. I am going with Jaws the movie that says" We gotta get a bigger boat" the movie that changed everyone's mind about swimming in the ocean for a few years. What's yours?
There were some great best-supporting nominees in the last 50 years though.  A few that stood the test of time from Saturday morning cartoons to some big screen money making box office blockbusters.  Here were a few: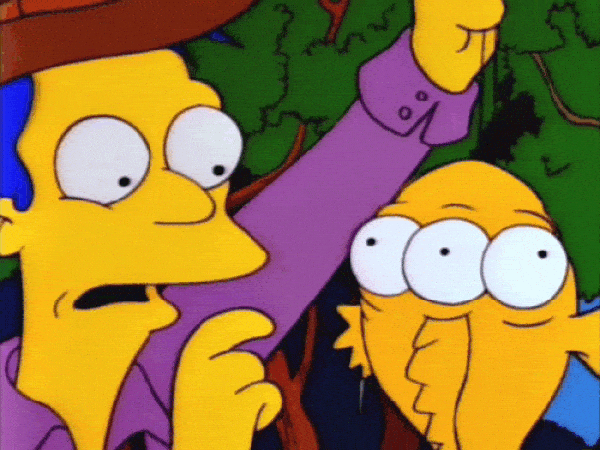 Blinky
became worldwide famous when he was caught by Bart Simpson in the 4th season of America's The Simpsons.  The animated sitcom created by Matt Groening for the Fox Broadcasting Company. The series is a satirical depiction of working-class life, epitomized by the Simpson family, which consists of Homer, Marge, Bart, Lisa, and Maggie. The show is set in a fictional town called Springfield USA. Blinky is a koi fish that are native to Japan. He is mutated by toxic waste from Springfield's Nuclear Power Plant. Blink made numerous appearances in The Simson Episodes and other shows for the TV show Futurama.
Ladyfish
Based on the novel by Theodore Pratt, this small fantasy leads the viewer from real-life to a spectacular animated deep-sea adventure. Henry Limpet (Don Knotts), a bespectacled, milquetoast bookkeeper, loves his pet fish so much that he longs to be one. When Henry's wish comes true and he's turned into a talking fish, the simple ocean life he'd envisioned proves more exciting than mundane. I remember this movie being on in my house quite a bit when I was growing up. Don Knotts was a popular Tv series actor and made Ladyfish and crusty the Crab Famous movie characters.
Dory
from the movie Finding Dory is a bright Blue Tang with a sunny personality but suffers from short term memory loss which is no big deal until She realizes she has a family. She is haunted by the belief that someone is looking for her. She spends the whole movie looking for them and learns a  lot of lessons along the way. My daughter fell in love  with Dory and found a few of these fish under our Christmas tree. 
Gill from What About Bob? 1991
Bob Wiley ( Bill Murray) is a neurotic and manipulative man who has a habit of clinging onto his therapists. His last one, not being able to deal with him, sends him to Leo Marvin (who is played by Richard Dreyfuss) After having just one session, Bob thinks the world of Dr. Marvin. However, the doctor's leaving to spend the rest of the summer with his family, which throws Bob into utter despair. I'm Sailing.. I'm Sailing. One of the funniest movies I ever saw.
He calls the doctor constantly demanding to see him, but the doctor says he is on vacation and cuts Bob off. Bob finds a way to track him down and goes there. The doctor's family takes a liking to him, but the doctor feels that he is just intrusive. And no matter what he does, Bob just won't go away, and everybody thinks that Leo is being mean. By the end, It's Leo who ends up being the patient. One of Murry's finest films and makes his Goldfish Gill an world wide star. 
Jaws 
My personal favorite movie of all time. Jaws did something that no movie could ever do and that was change how peopl went on vacation.  1975 American thriller film directed by Steven Spielberg and based on Peter Benchley's 1974 novel of the same name. In it, a giant man-eating great white shark attacks beachgoers on Amity Island, a fictional New England summer resort town, prompting police chief Martin Brody (Roy Scheider) to hunt it with the help of a marine biologist (Richard Dreyfuss) and a professional shark hunter (Robert Shaw). Murray Hamilton plays the mayor, and Lorraine Gary portrays Brody's wife. The screenplay is credited to Benchley, who wrote the first drafts, and actor-writer Carl Gottlieb, who rewrote the script during principal photography. Just a perfect movie that made a star out of a fish.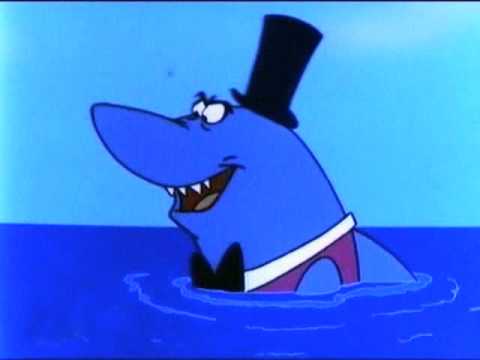 Misterjaw
Portrayed by Artie Johnson of Laugh In fame
Misterjaw is a 34-episode cartoon television series, produced at DePatie-Freleng Enterprises in 1976 for The Pink Panther and Friends television series on NBC. he was famous for jumping out of the water yelling "Gotcha"  and "Knuncle Head" in a German accent starting to ring a bell. He had a side kick a brooklyn accented catfish. When Misterjaw would get upset with his buddy, he would call him a Dogfish insted of a Catfish. Misterjaw was one of 2 Sharks that capatilized on the Jaws popularity from the movie.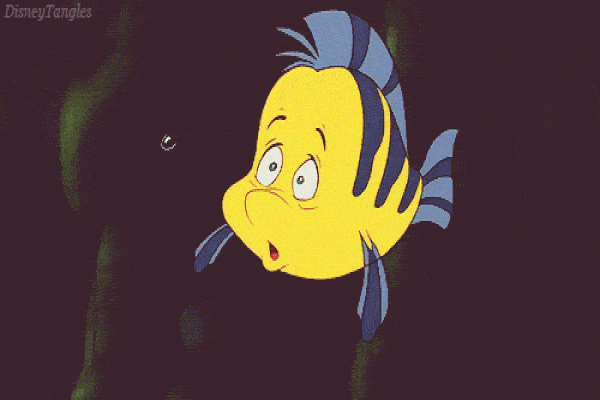 Flounder is a bright yellow and blue colored tropical fish (despite the name, he is not a flounder) and Ariel's best friend, voiced by Jason Marin in the 1989 film, who also provided vocals in-character for the tie-in music album Sebastian From The Little Mermaid. Flounder scares easily, and is prone to panicking under stressful situations like a single shark breaching the sunken ship, but when Ariel is in trouble, he comes through for her without hesitation. In the film he is the only character to give unconditional support for Ariel's fascination with human things, and at one point gives Ariel a statue of Eric as a gift. Flounder has made appearances in parades all over the country and TV Specials and it quite popular no matter what kind of fish he or she is.
Baron Barracuda is the sinister sea fish with a monocle on the 1961 live-action children's marionette adventure "DIVER DAN". History Baron Barracuda and his stooge sidekick Trigger Fish ( who called the Baron "Boss" ) lived in the Sargasso Sea in a cave by Teetering Rock. Sorry if I'm just too old but these shows use to be in the afternoon and Saturday morning and Trigger and the Baron were popular dudes at the time. Not much on special effects but quality shows for the kids.
Charlie is an blue tuna fish with a white underbelly. He wears a red beret and coke-bottle glasses. Some versions of Charlie have his name written on the beret, similar to Tony the Tiger's neckerchief. Earlier versions of Charlie wore a yellow beret and the earliest version wore sunglasses. His blue colour has varied considerably throughout the decades.Charlie the Tuna is the mascot of StarKist tuna. He was created by Tom Rogers at Leo Burnett in 1961. He is apparently based on the actor-songwriter Henry Nemo, a friend of Rogers. He is obsessed with being caught by StarKist, showing off his "good" tastes in the hope they will catch him. However, he always fails to realise StarKist are looking for tuna that tastes good, not tuna with good tastes.
Finding Nemo-the popular Clownfish  is the number one best selling DVD of all time. Finding Nemo is a 2003 American computer-animated adventure film produced by Pixar Animation Studios and released by Walt Disney Pictures. Written and directed by Andrew Stanton with co-direction by Lee Unkrich, the film stars the voices of Albert Brooks, Ellen DeGeneres, Alexander Gould, and Willem Dafoe. It tells the story of the overprotective ocellaris clownfish named Marlin who, along with a regal blue tang named Dory, searches for his abducted son Nemo all the way to Sydney Harbour. Along the way, Marlin learns to take risks and comes to terms with Nemo taking care of himself.
Abe "Fish" Vigoda has been a popular character actor in television and film for more than four decades. He landed his film break with a role in The Godfather. Abe Vigoda was born in New York City on February 24, 1921. He was a struggling actor for decades as a struggling actor, he began to attract the public's attention in the 1960s by landing a few notable stage roles. Vigoda's big break came in 19772 with a role in The Godfather. In 1975, he played another memorable role on the show Barney Miller. More recently, he lent his distinctive voice to the film Farce of the Penguins. Vigoda died on January 26 2016 at the age 94. I liked him Had to throw him in. 
Fish movies seem to make a lot of money and are really popular with families. Shark Tale is a 2004 American computer-animated comedy film produced by DreamWorks Animation and directed by Vicky Jenson, Bibo Bergeron and Rob Letterman. The first computer-animated film by DreamWorks Animation to be produced at the Glendale studio, the film stars Will Smith, Robert De Niro, Renée Zellweger, Angelina Jolie, Jack Black, and Martin Scorsese. Other voices were provided by Ziggy Marley, Doug E. Doug, Michael Imperial, Vincent Pastore and Peter Falk. It tells the story of a fish named Oscar (Smith) who falsely claims to have killed the son of a shark mob boss (De Niro) to advance his own community standing. 
Piranha 3D- Watch Out Jaws-Lake Victoria's annual Spring party by 50,000 young revelers is about to turn into a feeding frenzy with prehistoric hunger-pains. With knee-trembler's above the waves and tremors below, released from their dormant sleep, thousands upon thousands of flesh-eating nippers are released into the lake with whetted appetites and razor-sharp teeth. This Summer 3D Shows Its Teeth 
There's Something in the Water
Don't Scream…Just Swim!
Two million years of evolution. One perfect killer.
This summer, how fast can you swim? 
I searched my memory for some outstanding moments in television and Hollywood for some big stars that lit up the big screen and did all our gilled buddies proudly, …to be a fish, I mean. If you think of any leave it behind.
I don't know why I wrote this article maybe I just wanted to write an article about my favorite movie Jaws. The quotes in that movie are too cool and too many like.
Mayor Vaughn: "Martin, it's all psychological. You yell, "Barracuda," everybody says, "huh, what?" You yell "Shark," we've got a panic on our hands on the Fourth of July." or
Quint: "Back home, we get a taxidermy man, he's gonna have a heart attack when he sees what I brung him!"
I need to watch the movie again and soon, it's been almost 3 months since I saw it. Or maybe some Flipper. No, He's a mammal.
JimGalloway