Growing up and fishing in New Jersey all my life, there are a few things that never change over those years when it comes to surf fishing and one of them is using the most popular tool in your tackle box is the standard reliable Fish-Finder Rig, a staple for Surf Fisherman, especially for Striped Bass but what is a Fish-Finder Rig for Stripers?
A Fish-Finder Rig is a simple fishing rig popular for Striped Bass Surf fishing, ideal for using large pieces or chunks of bait. Parts of the Rig are made up of:
20-30lb test Main Line
Fishing Weight Slider
Pyramid Sinker to hold bottom
Red Beads
Barrell Swivel
Heavy clear Fluorocarbon Leader
Circle Hook
The Fish-Finder Rig is a great way for your live bait to attract, drift and cover a lot of water if you are fishing from the beach and using a rod tube in the sand, and don't forget to bring your beach chair to relax in while you're fishing.
Fish Finder Rig Setup
Some advantages of using a Fish-Finder Rig are:
The Fish-Finder can eliminate line twist in the roughest surf
A fish can pick up your bait off the bottom in the sand and won't feel any resistance on the line or weight of the sinker
The rig covers a lot of water
If you make your own rig you can adjust the size or add afloat and increase the pound test of the leader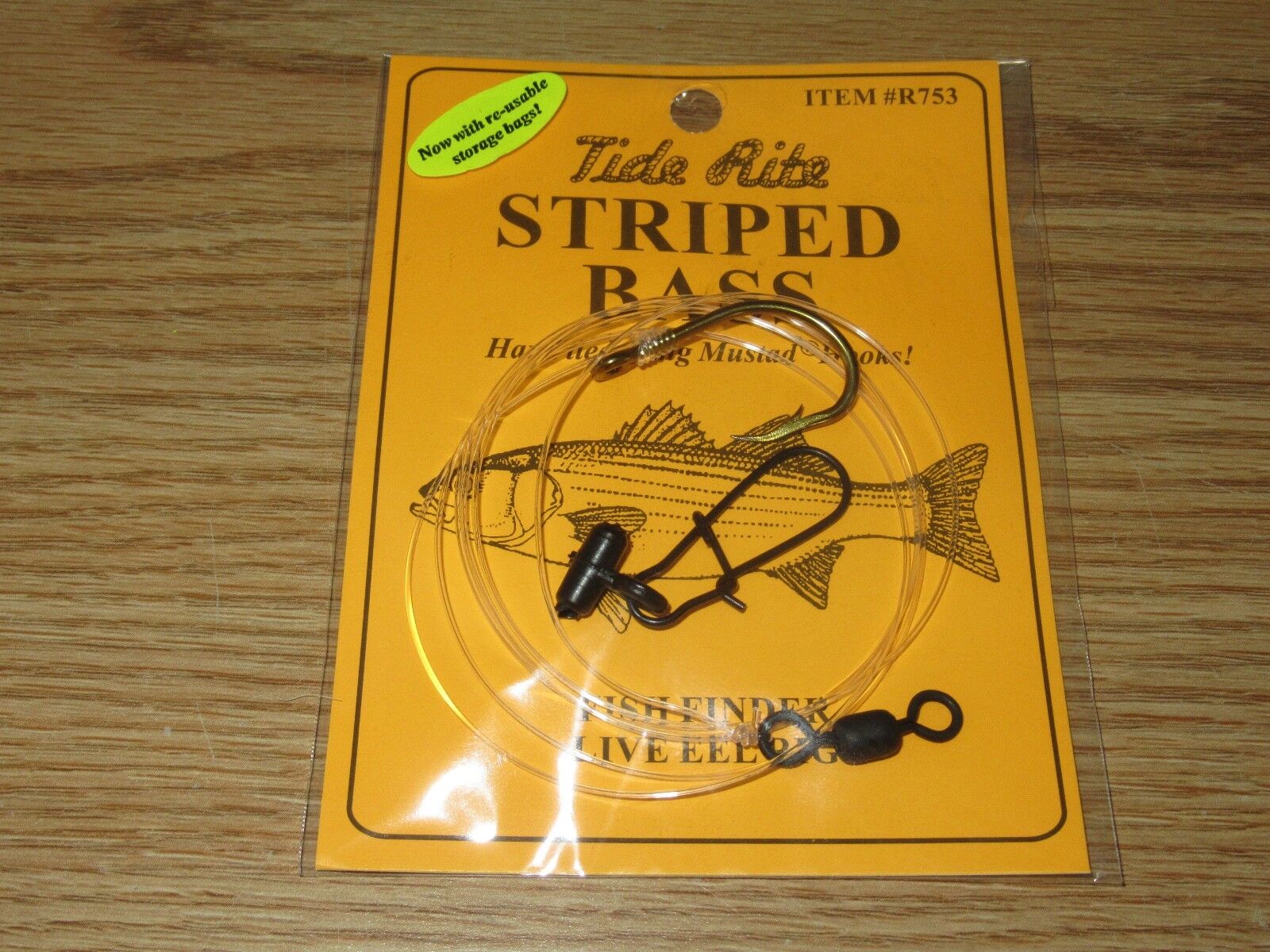 You can buy the Fish-Finder rig at the tackle store all ready to go from the package or you can do what I do to save money and make a few up before I head down to the beach. The average cost here around Jersey is around 5-6 bucks which seems pretty expensive so I would recommend tieing my own or buying online instead of at the tackle shop on the docks closer to the water.
They are more durable than other rigs because the Fish-Finders are meant to sit out on the water for a while in the drift, but you still need to check your bait so make sure you knot them correctly. The fish finder rig is a line configuration for surf fishing, widely known for its simplicity, efficiency, and appeal to fish like a Striper, who might hit softly or need to inspect their food before taking it, unlike a Bluefish who have been known to hit beer cans.
The Fish-Finder is recognized as the saltwater equivalent of the Carolina Rig and basically, works the same. To make a Fish-Finder you need 5 or 6 pieces to tie one up. There are no strict rules to making one up I generally use a leader that is 2x the weight of the mainline coming from the reel.
Line Sleeve or Slide Swivel's job is to keep the line free and independent of the weight of the sinker, letting your bait drift and covering the ocean floor. More importantly, you can swap your singers to accommodate depth or Surf conditions. Remember the Slide goes on first.
Plastic Bead-The job of the Bead is to prevent friction on the knot that connects the leader. I can also make a clicking sound to attract the Striped Bass
Sinker– Heavy enough to hold the bottom- Pyramid Sinker(will hold bottom better than an egg-shaped-it has to slide easily up and down the leader.
Barrel Swivel- sizes # 3-6 will keep the Sinker from sliding down to the hook.
Leader- keep the length of the leader on a shorter size because doing this will increase the distance of your cast which is an important ability in Surf Fishing. Most Surf fishermen used Mono or Fluorocarbon 30-60 lb. test leader that is clear and invisible to the Striper. Blues and Sharks try and use the heavier leader. I use around a 12-inch-long leader. Too long can get caught in the wind and is less controllable. Longer can also add a little more weight for better casting so 6- 18 inches is fine.
Circle Hook–A must for Striped Bass. Soon most fisheries, fresh and saltwater will demand Circle Hooks. As of this writing, Circle Hooks are mandated on the Maryland-Delaware- Jersey and New York Atlantic fisheries.
Best Circle Hooks for Striped Bass
If you are using Bunker(menhaden) chunks with a bottom rig with a 6/0 to 9/0 light-wire circle hook, made from narrower, more malleable wire. Snell the hook to 18 inches of 25-pound fluorocarbon and tie the leader to a swivel. Use a fish-finder slide and bank sinker onto his 20-pound-braid mainline and then ties the mainline to the swivel and leader.
To fish with a live spot or eel, then try a 5/0 circle hook. For live menhaden, he upsizes to a 9/0 circle hook. Some Charter Captains prefer a wide-gap circle hook, like the Mustad 39951, that he can dig a little deeper into the bait.
Mustad 39951 hooks are fast becoming very popular for Surf fishing or any kind of fishing. The Mustad Circle hook is a circle hook made for bait to target Sailfish, Wahoo, Amberjack, small Tuna, Permit, or Striped Bass. The distinct curved shape of the circle hook will when the fish takes the baited hook and swallows it, ensure that the hook travels to the corner of the mouth or lip, resulting in fewer deep-hooked fish.
It is in other words, the ultimate Catch&Release hook. Setting the hook is more of a firm tightening of the line, than an actual strike. Perfect when using live bait. The "MTL-V1" point combines a more efficient point design with a new sharpening process to enhance the quality. The result is a sharper, sleek new point shape with penetration resistance 50% lower than standard Classic Hook points!
Opti-angle needlepoint
Chemically sharpened
Nor-tempered
Point curved in
Ringed
Hook size plays a critical role in Catch&Release success. As a rule of thumb, choose a circle hook that's a little larger than the appropriate size. A larger hook allows plenty of gaps on the circle hook to catch the striper's jaw. That is where you want to set the hook either to release it or keep it, especially for a Striped Bass with low harvesting and population problems.
Fish Finder Rig With Float
The best thing about using a fish finder is that everything on the rig is replaceable or adjustable if 4 0z is not holding the bottom then adjust the weight to keep the Sinker from moving around to find what you need. In fact, the place to find out what kind of weight is holding the bottom on the beach is to ask the people at the tackle shop who know daily what Stripers, Blues, Drum or any kind of fish are hitting on how rough the surf is and what you'll need to get your line wet as soon as possible.
The same goes with foam floats if you are incorporating them in your Fish Finder Rig. Smaller fish can be at the top or bigger Cows could be laying in shallower holes between tides. The float rigs give you an added dimension to keep your bait available and in plain view instead of changing the length of the leader which will save valuable time on a high tide.
It will also keep your bait from being eaten by trash fish like crabs, skates, or sand sharks that are laying on the bottom feasting on your clam or bunker.
Once you get the system down of using a Fish-Finder then it's time to use different rods with baits at different locations in the water that will only increase your odds of success even higher.
For another great article on fishing like this one just stay right here at MyWaterEarth&Sky-Catfishing is becoming an attractive sport for fishermen, especially in rivers where all giant species like Blue, Channel, or Flathead catfish can be found from coast to coast from southern ……………. Continue reading
JimGalloway Author Editor