If you are a  saltwater fisherman on the east coast then you know what's coming soon after a drop in water temperature, Stripe Bass will be showing up in the tidal rivers and bays along with the coastline beaches and estuaries where their seasonal migration turns on. One of the best natural baits to use for striped bass among other saltwater predator fish is clam which can sometimes be difficult to use. What is the best way to fish with clams?
Clam bait comes as frozen, fresh shuck, & salted which are best fished on circle hooks by threading the Clam onto a hook, starting with the soft "belly" and ending with the more muscular foot, wrapped with elastic thread that will keep soft bait in place while casting & from smaller bait-stealers.
Understanding some of the basics of using clams as a go-to bait and learning some simple fishing tips can get you the results you are looking for no matter the location saltwater or even freshwater.
Fishing With Clams
Atlantic surf clams are available species along the western North Atlantic Ocean from southern Canada down to Cape Hatteras, North Carolina. Clam as bait comes as:
Frozen
Shuck Clams
Salted
Bait & Tackle shops sell clams by the individual clam, half-bushel, and full-bushel in order to cater to the various anglers that end up in their store. Frozen Clams are held in refrigerated boxes with other frozen bait fish.
Fresh Shucked clams are the most popular bait for serious angler fishing in many different varieties of fish.  They are very good bait with pier, bridge, or surf fishermen. The shucked surf clams are tough bait for the discerning fisherman. Clams are known most famously for their use as a desired go-to bait for successfully catching Striped Bass, especially after a storm.
Large predatory fish, like a Striped Bass, swim these waters just off the beach in the Northeast part of the US to take advantage of the abundance of these shellfish. Clams are available in any Tackle and Bait shop along the ocean. 
However, plenty of other fish will also bite a clam on a hook, such as Fluke, Flounder, Sea Robin, Bluefish, Sea Trout, Blackfish, Sea Bass, Porgy, Whiting, Rockfish, Surf Perch, and many types of Sharks. Clams Bellies have a distinct taste and smell compared to most other forms of bait that are desirable to predator fish. Sea Clams normally come whole and are very durable bait and can be refrozen with no issues.
Surf Fishing With Fresh Clams
Some fishermen don't like using them because it's tough to keep them on the hook. The truth is Shuck Clams fresh and in the shell are the most popular bait for serious fishermen. The scent and oils move through the water and will entice the most finicky predatory fish.
They consider fresh clam like candy and will slam down on it. If you are using fresh clams, the meat will stay on the hook better.  Once clams die, the meat deteriorates quickly and it will be hard to keep the bait on the hook.
As with any bait, fresh is always the best. Buy the clams in the shells and shuck each one just before baiting up. If fresh clams are unavailable, salted is a distant second-best but most agree fresher is better and in the end more sucessful.
Shucked clam bait in the shell can be priced per clam, by the pound, and by the bushel. A common price that we see in the New York & New Jersey area is around $0.75 per clam, $7.50 per pound & $75.00 per bushel, of salted or fresh clams. Clams can also be sold for chumming.
Keeping Frozen Clams on the Hook
Clams are one of the favorite baits on the eastern shore of the United States. Excellent bait for surf fishing. Best used to catch striped bass, flounder, trout, sheepshead, tautog, pompano, redfish, and drum. Where I fish on the Jersey coast clams come in a few different ways. Surf clams have been used for food as well as bait for at least 100 years.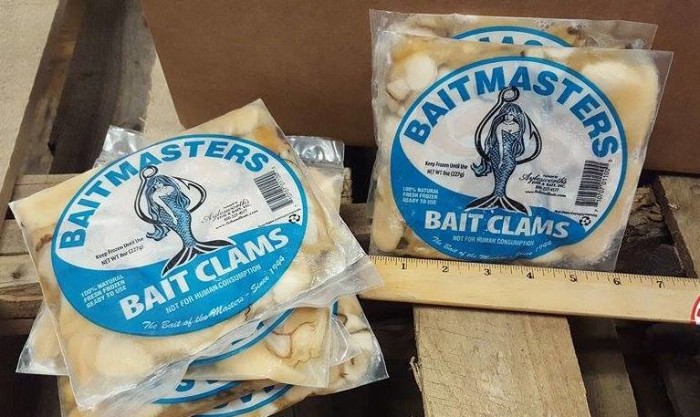 Frozen Clam is easier to handle as long as it stays frozen. They are sold in vacuum-type plastic sealed bags or frozen sales tubs or canisters that are fairly easy to use.   Shuck Clams are best to use in any situation. Most striper fishermen agree that this method for fishing with clams is the best way. Buy the fresh clams in the shells and shuck each one just before baiting when you get out on the beach into the elements.
Clams are best fished on circle hooks, as even small stripers will quickly swallow them. Thread them onto the hook, starting with the soft "belly" and ending with the more muscular foot. A few wraps of elastic Clam Thread will keep the soft bait in place when casting out and help it resist smaller bait-stealers like crabs and baitfish that won't leave it alone.
Avoid pulling your line in too many times and recasting. One thing for certain when using Clam for fishing is that the fresher the clam is, the easier it is to keep on your hook. As soon as the clam dies, that would be the ideal time to replace the clam meat on your hook.
Try and use the whole Frozen Clam because if the bait is too small, it won't carry as much flavor from its oil and scent that will entice a bite from a Striper. Stripers love fresh clams, shucked clams, and salted clams. The juicier the clam, the better. Stripers love fresh clams, shucked clams, and salted clams. The juicier the clam, the fresher it is so it is worth the extra effort to shuck the clams and attach them to the hook.
So even though frozen Clams may be easier to handle it is the fresh Shuck Clams that big fish like and the Stripers crave. 
Salted Rig Clams for Surf Fishing
If fresh Clams are unavailable to you, using Salted clams is a distant second best. Clams are salted for a few different reasons making Salted clams a viable and dependable alternative to using Fresh Clams. If you don't live near a Bait n Tackle store in order to get the real thing.
Are easier to get on the hook
Salted Clams will stay on the hook longer
Will keep unrefrigerated or refrigerated and last longer
Attracts fish with natural scent and flavor
It won't stink
Small fish and crabs won't be able to pull this bait off the hook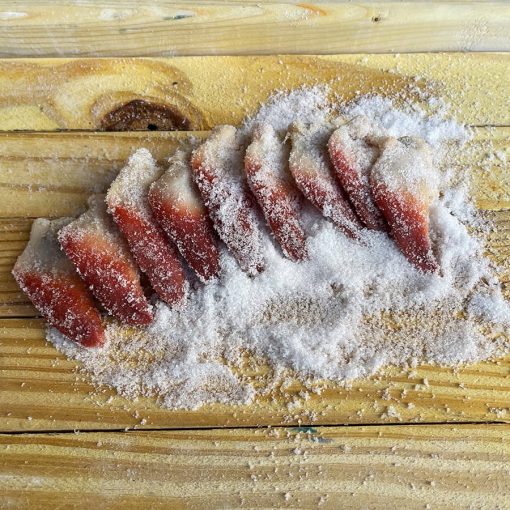 Mess-free clams that are hand-salted in a special dry brine mixture. All the natural scents of a real clam are preserved within this dry-salted version. As soon as the clam hits the water, it starts to take in moisture again and release a cloud of clammy scent!
Salted Clam Bait usually comes in packs with 7-9 freshly salted clams in a special individual salt mixture. What is nice is that the salt prevents the clams from freezing and just makes them like rubber. Use this size whole for big fish or cut them smaller.
Nothing beats fresh clam and rubber bands, one of the best baits. The second, to that, is salted clam, then cut into strips with no need for rubber bands. Salt cannot have iodine in it as it fowls the clam. Use kosher or sea salt. I use salt that is for saltwater aquaria as that is another hobby of mine and it works great. The same applies to squid. If you want to salt your own bait and a lot of fishermen do check out the video!
These are mess-free clams that we hand-salt in a special dry brine mixture. All the natural scents of a real clam are preserved within this dry-salted version. As soon as the clam hits the water, it starts to take in moisture again and release a cloud of clammy scent! You can order these Real Bait Real Tough baits online for around $18.50 Bait will naturally vary in color and size. Bait is packaged with an additional salt preservation mixture. Value Pack- Clammy Bits- Salted Clam- Fishing Bait by Hey Skipper
JimGalloway Author/Editor