The Striped Bass is often the most frustrating, elusive fish to catch because of its size, smarts, and location. Striper fishing is a favorite trip for the East Coast sports fisherman like myself, who braves early spring and late fall temperatures to hit the beach to try and claim bragging rights to one of the best trophy fish in the ocean. To be successful, you need to know a few things. How to catch striped bass from shore?
You'll need to know:
The Water Temperature
The Time of High & Low Tides
The right kind of Surf Equipment to Use
The right Bait, the Striped Bass, is hitting on that Day
The right colored lure they're hitting on
A weight that holds the bottom
How to Read Surf
How to Set Your Hook to land your Bass on the Beach
We arrive at the top of the Island just below Seaside Heights, New Jersey Shore. There is always a Bait Shop opened up at the entrance where fishermen hang around telling stories of the Big Bass Stripers they landed surf fishing a few years ago. They also have the information you'll need to know for catching a striper that day. So grab a coffee and listen up!
How to Catch Striped Bass from Shore
1.   Time-Temperature: 
Most guys I know agree that the two hours before and the two hours after high tide are critical. Spring Striper starts to bite at 50 degrees and can stop if the water temperature slips up or down. You should fish the shorelines perpendicular straight out to the breakers, aiming in front of the sandbar, which is where you will find a deep trough where hopefully, a Big Striper will be hunting prey running horizontally through the channel.
2. Online Tackle &  Equipment:
You'll need an 8-12 foot surf rod with a 20 lb. monofilament fishing line. You also need to use a 30-60 lb. test braided line, which is better for casting. Striped bass will bite on bait, lures, bucktails & poppers. Your Surf reel like this one on Amazon can deal with sand, and the fish needs a drag setting that works well. It needs to be enclosed. Striped bass will take the line out & run, then hook themselves. You don't set the hook like you would with most fish. If you try, you'll lose it. Then again, Stripers aren't like other fish.
Most fishermen on beaches in New Jersey who are shoreline fishing use a sand spike to set the rod down in the sand. But others say that Striped Bass bite so lightly you need both hands on the rod at all times when you are fishing. I think they are both right.  Striped Bass hit hard and timid, so set the beer down and fish with both hands.
3.   Bait:   
Stop in the Tackle Shop and find out what everyone is using. What size weight is holding the bottom? They will know. It's their business to know. One day it could be clams, the next bunker. The line sets could use circle hooks that will accommodate clam, which in Jersey surf bait will be a bunker fish, live Eels, or clam.
Bait Finder is a popular setup for Bass fishing. You will cast as far out as possible and let it sit on the seafloor while leaving the bait feeder or dragging it open. Striped bass is considered a finicky big fish and somewhat lazy. They are kind of spoiled.  Some anglers use bloodworms and anchovies, whatever they are hitting on.
4.  Read the Surf for Structures:  
Troughs are lanes of deepwater bounded by the beach and a sandbar. The wave will tell the tale. The Structures can be visualized by the whitewater on the wave.  If you can learn to do this, you will be able to cast your bait into it, where you will catch predator-striped bass called tide runners. This is where they go to eat. There are a few other structures like Cuts-Points, and holes but Troughs are the most important. Learn the Structures for that beach and surf.
5.  Land the Catch: 
Stripers are not like most fish. When the Stripe Bass takes the bait, you need to wait about five seconds, then reel (pull lightly) toward the opposite direction that the fish is pulling the rod tip.  Don't Set Your Hook. Let the striper Set It. I can't tell you how many of my friends lost Bass trying to set their hook. Yea, me too!  That's It. Congratulations on your First Striped Bass. It's a beast.
Striper Bass Fishing Report
East Coast Stripe Bass are fish found between the Carolinas and Nova Scotia. The Chesapeake Bay is a major producer of Stripe bass, with The Hudson River being second. Spawning migration begins in March, and it is believed that they stay in and near the ocean while they spawn.
The migration of the northern stock to the south begins in September beginning in Maine.  The Striped Bass is long and silver-colored, with dark stripes running from behind the gills to the base of the tail.
Big Bass inhabit rivers, inlets, bays and tributaries, and the ocean. Big Stripers frequently run over 4 feet long and weigh over 50 lbs. The biggest Striped Bass ever caught was 81.8 lbs. caught in Connecticut. They own the shoreline water from April to early spring then again in late fall.
Striped Bass has been found to swim 100 miles upriver. They are abundant in the water around New York City and New Jersey and are considered freshwater sports fish down in Florida.
Fish Finder Rig For Stripers
For some reason, this technique works super well and can account for many trophy-size fish. Other different ways to change the menu are soft shell crabs or live eels.
With Live eels, it is important to let the eel swim to a strike zone. After a cast, an eel will head for the rocks on the bottom to keep the tension on the line.
 Lift and drop your rod tip, and the eels will do the work. every time you drop your tip, the eel will head to the bottom, creating a lot of excitement for the Striped Bass to notice and enough time to engulf the eel.
Eels are expensive, maybe 4 to 5 dollars apiece, and hard to deal with. When you're baiting them, use a piece of burlap or sand and hold the eel around the neck. to set them on a circle hook, pass the hook through the top of the eel's mouth and out one of his eyes.
Or set it through the bottom of his throat, which may keep him alive a little longer. $4.00 a piece, you want to keep him on the hook and keep him alive.
Best Live Bait For Striped Bass
I fish striper on the shores of Island State Park in New Jersey twice a year and have been lucky using Fresh clam-like in this Video on the shell if you can shuck them and bait them.
It seems to be better than buying them frozen. The Island in Jersey called Island State Park outside of Seaside is a haven for sportsmen lined up on the 10 miles of private beaches to waiting for the Stripers to come by. Use bait like Crabs or Eels are good early Spring Bunker in the Fall.
The place is loaded with all kinds of big fish like bluefish and sharks, but normally, most people are there to catch Striped Bass on the island surf, day and night. It has a few swimming places, but 99% of the people who come here come to fish for striped Bass. The surf here is perfect for fishing and very happy, successful anglers are waiting to tell a story of the big one.
If you come here for striper fishing, you'll hear all kinds of fish stories. This is one of the best-known surf fishing shores in the Tri-State area to come for Striped Bass season. Anglers can get a permit to drive on the beaches, so there is plenty of shore access and opportunity to catch a striper.
Most people here used fresh clam and bunker fish for striper bait.  Because the nature of the Striped Bass is to hit the light on the bunker or clams, it's important to make sure that rough surf and other elements don't knock it off. Use special rubber bands that are very helpful and made to keep the bait on the hook that is sold on-site.
There is an art to baiting your hook for stripers. Any kind of bait, lures, or tackle can be purchased on-site. Not only fresh bait and the right color jig lures you need but the right information from folks who know and breakfast too.
They will take a picture and interview for their website. Then they will know what the fish are biting on besides surf fishing lessons, the weather conditions, and wind-water conditions. The whole place is worth the trip.
Surf Fishing Accessories
The sport of surf fishing for Striped Bass has taken off in the last ten years or so with all kinds of products for day and night fishing. There are racks and carriers for your truck to carry rods and gear. Headlamps, glow sticks, lures, and glow tips for your rod to spot hits in the dark on the beach. There is nothing cooler than landing a Big Striped Bass in the Surf. Nothing.
Anglers fish tides, and if the tide is at night, you fish at night. Striped Bass fishermen are loyal and committed sportsmen that will go to the most lengths to catch that Bass. The environment can be cold, wet, and harsh. The Striped bass sport of fishing is done from a Kayak or a beach or piling that is only accessible at low tide.
So there is an element of adventure to it. My buddy uses a special kayak to sit high in the ocean water to fish. It has running lights for night striper fishing. He takes it out at night dressed in a wetsuit with just a life vest and some other gear in it. Too adventurous for me.
 Island State Park on the Jersey shore has miles of beach access with some emergency equipment and class for the permit that will last the whole year. There are "Air Stations " where you must take the air out of your tires to ride on the beach.
You can catch fish for 24 hrs. a day and have a campfire on the beach. Alcohol is illegal on the shore, but most people are more serious about fishing anyway. The island beach mostly empties out at night and is so long that you might not see anyone anyway.
Not Far away from Philly & New York is a Striped bass haven called Island State Park, NJ miles of pristine protected shoreline.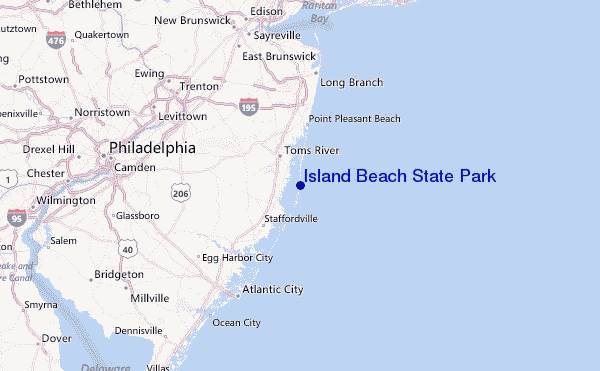 Striper Fishing New Jersey Shore
The Island itself is a huge wildlife sanctuary for birds and wild foxes. Hundreds of foxes live on the Island. I have been there overnight and have been woken up by these spooky critters. Their friendly and tame, but you can tell who owns the place. Really Cool!
If you get a chance, get some surf gear and visit Island State Park for a Striped Bass Surf Fishing experience. You won't regret it.  Before I forget, I must say that Striped Bass which is fresh ocean caught is incredible on the grill. If you never had it. It's a must. One of the best pieces of fish I've ever had. If it's done right, I'll save it for another article.
JimGalloway/ Author Editor