How to Choose Waders
There are different types of materials and fabrics that are used to manufacture waders used for fishing. The fabrics used give the Freshwater/Saltwater fisherman the options in price and are beneficial for each type of environment used.
 Nothing like being overdressed on the opening day of trout season. then again if you have been on the surf in November waiting for an ocean tide to come in with wind pushing onshore then you know what cold is. There is no overdress.Waders come in all colors and sizes along with different types of material that are not all the same in value.
Neoprene material can be thick 3-5mm thick and very durable. They come with boots built into the Waders and are reinforced at the knees and maybe your butt.
My first pair of waders were like these and were priced under $100.00 dollars or so. They are still a great option. Just throw them in the back of your pickup truck and you'll always have them if you need them. These types of  Waders are fine and work well and are rugged. They just aren't very comfortable.  But then again the object of a wader is to keep the cold water off you. Neoprene will keep you warm and dry.
They are priced fairly low for what they do. The bad thing about this type of waders and the material is that there made from a rubber-based fabric that is thick and uncomfortable. The thicker the material the better the protection but they have some major drawbacks.
The first question you should ask yourself when purchasing Waders for fishing, should be what type of Fishing Waders Do I need? for what kind of fishing will I be doing? and which season, will I be fishing in?
Cheapest Chest Waders
These are the lowest in price and tend not to last very long. They puncture and are broken down by the sun. They can be used in a few situations like a quick lunchtime trip to your favorite spot at the lake but just aren't made to last long. or to be used in the ocean. At least not the one I've seen.
They are waterproof and lightweight. Most of them have adjustable suspenders and internal pockets. They come with cleated boots and are softer material and are easier to move around in the surf. These waders are a short-term solution for keeping your butt dry.
I wouldn't risk being in dangerously cold water with these waders on. But, in a safer environment where the risk of exposure is low, yea why not. The best part about these cheaper waders is that they come with a patch repair kit. You can save them a few times before trashing them and buying the real deal.
These cheaper Nylon and PVC waders come with boots Bootfoots or not, and Stockingfoot. This gives you another option or choice to save money. If you have never fished using waders before, this is a good alternative. Not that there is a learning curve, but there are some common-sense tips when using waders that you can learn by using them while you are fishing.
Best Neoprene Waders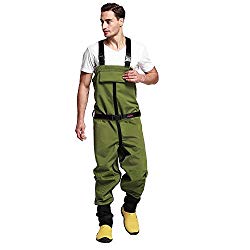 Neoprene is a non-breathable rubber-based material used in waders that are useful in colder waters and freezing water temperatures. They are basically limited to these cold ambient or water temperatures. They come in Bootfoot or Stockingfoot as do all the waders. A good set of neoprene will have pockets that are Velcro or sipped up to keep your personal from getting wet and hand warmers at the top of your bibs.
When they first came onto the market 25 years ago Neoprene waders were an expensive choice but have drastically come down in price because of the newer more advanced options of breathable fabrics that have recently come along. The newer more modern models of Neoprene waders come lined with materials on the inside, for added warmth and protection.
Neoprene fabric is pieced together during its construction and has stitching and tape across the seams to make the fabric more durable. The problem with this type of construction is, that the thicker and more stitching the more uncomfortable and harder they are to wear.
This liner on the inside also insulates and helps keep the person wearing it cooler when the temperatures fluctuate. Neoprene is still a choice in extreme water temperatures. Places like Alaska where ambient water temperatures don't really climb as with glacial melt-off in some salmon-filled creeks. If you are standing in extreme temperatures for longer periods of time, exposed to an icy lake or river then neoprene should be a fabric of choice for you.
There is a tendency that exists to over-heat in the Neoprene waders especially if you are moving while you fish. Everyone knows that sweating in cold weather situations is not such a good thing. Moist heat is not able to escape through neoprene nylon or rubber-based material.
If you need to hike from your vehicle to the surf and back again to move to other spots, it won't easy to do with neoprene on. You are not going to carry gear and walk anywhere with Neoprene Waders on. In fact, You are not going to walk any distance on the sand in Neoprene Waders. I learned that pretty quickly.
The neoprene material is still the best material in cold water temperatures where ambient water and air temperatures stay cold all year long. They come in thick 3-5 mill fabrics to keep you away from the environmental elements that can harm you, or worse.
Best Breathable Fishing Waders
Breathable Waders are waders made from Nylon or polyester with the addition of the Gore-Tex membrane. Breathable Waders are now the most popular choice for the Outdoorsman today. There are good reasons for this Material being versatile enough to be worn on summer days as well as fishing into the winter months as long as the fisherman ware layers underneath.
Waders made from breathable materials are not as durable as the Neoprene and rubber or PVC materials on the market. They are commonly used as reinforcement for lighter Breathable waders on the market.
Breathable waders are made of a material that allows water vapor to escape through the fabric, but will not allow a larger water molecule to penetrate the inside of the wader. This makes this material waterproof. Modern Breathable Waders have zippers and pockets that are waterproof so you can be submerged in water and it will not penetrate either one.
You can now make yourself as warm as you want by adding and stripping away layers from underneath making you more comfortable. They allow you the comfort of being dry and warm but not overheating. The more expensive Breathable waders use what is called welded seams.
The seams are not stitched but are glued together and taped to create a very smooth surface that makes the waders even more durable and comfortable doing away with bulging and any kind of pinching at the seams that are normally found on Neoprene Waders.
Breathable Waders come on and off fast and are reliable. They are comfortable in seasonal weather was the ambient temperature of the air could be warm but the water temperature is cold. They prevent overheating and allow heat transpired from your body to escape and at the same time are waterproof.
Warm Weather Waders
They are the cheapest way to go and could be a good option for the person who is introducing him/herself to the world of fishing in waders. I've seen them as cheap as $ 30.00 dollars with the boot attached. Hip waders are a little bit more money.
Neoprene Waders-depending on the style these waders are between $100-300.00 dollars on average.
Chest Waders at or around $299.00. Normally, they come with the basics. that are adjustable suspenders, Handwarmers, 3.5-5.0 Mil thick. and 200 ml Thinsulate insulated boots. 
Breathable Waders-Chest Waders are a top-quality fabric that mixes Neoprene with Polyester and or Gor-Tex material and can run up to $ 800.00. On average the Chest Waders include Bootfoot with Thinsulate insulation is on average about $250-500.00 dollars for the waders.
Fishing  Waders & Accessories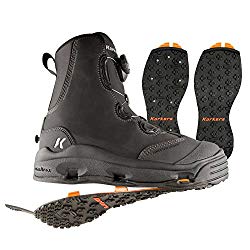 Wearing Waders can become a danger when the boots fill up with water. Fresh, Salt doesn't matter. Watch this Video it may help you save your life someday, especially on the Beach. Watch it!
When it comes to your waders you can mix and match components to complete a great set that will optimize your fishing trips and keep you as comfortable as can be with the right equipment. Wading Boots are crucial footwear that can add safety to your outfit.  Check the gear for any type of fishing Boots like Simms Freestone Wading Boot for Men, Lightweight, Rubber Sole, Waterproof, Durable, Superior Traction, Dark Olive and come with Felt or Studded Soles that are interchangeable. Felt soles are used for muddy and sandy saltwater conditions while Studded soles are for rocks and slippery surfaces.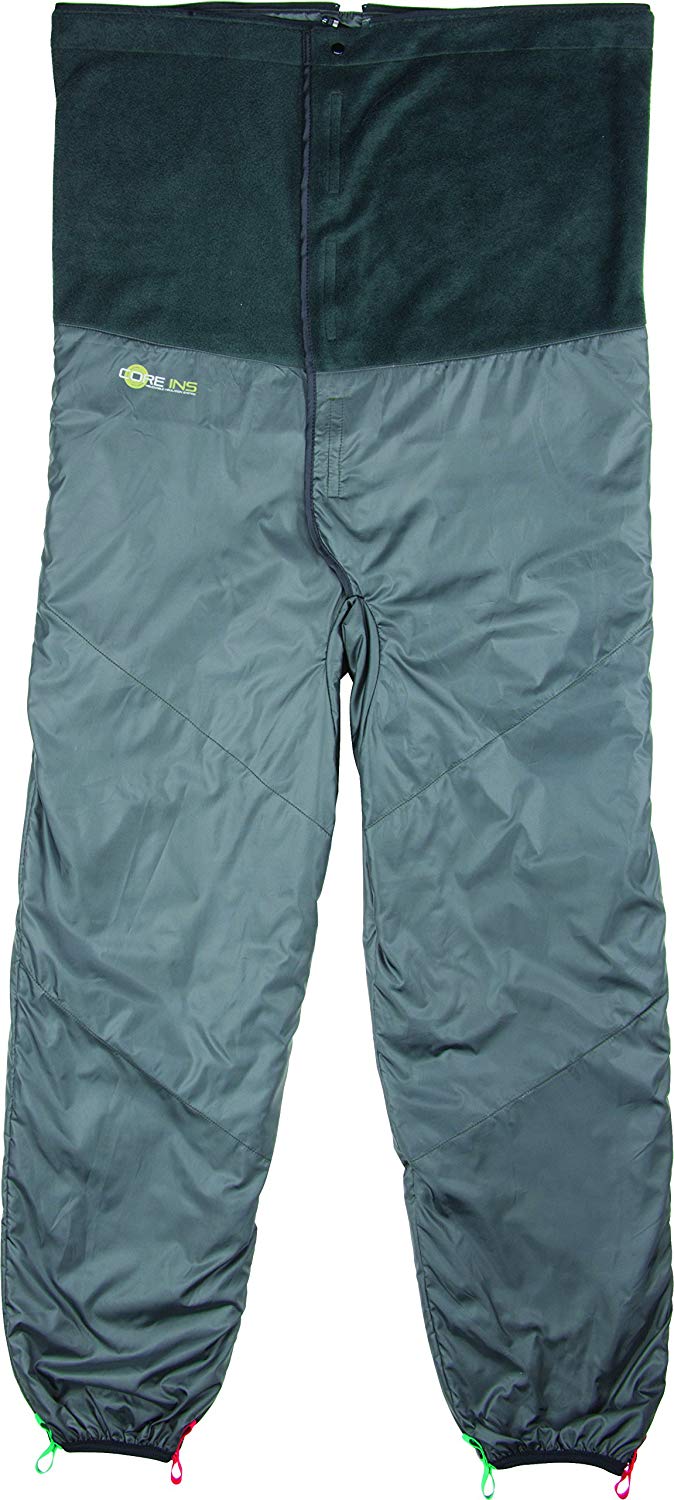 Wader Liners  
 are made to be used with Breathable Waders for adding soft-lined insulation that will bring Breathable waders up to par with the warmth of Neoprene. They run between $50-75.00 dollars.
Wading Socks- These are super heavy wool socks that are cushioned and durable for outstanding warmth and comfort. The idea of standing in cold water for long periods of time will convince you that these socks are a huge component in your Fishing Wader wardrobe. A good pair made out of Neoprene material that is durable and made to slide in and out of your waders is priced around $35-50.00 dollars. 
Waders are a needed part of your Surf Fishing arsenal, especially in colder water when the big fish are running their migratory directions up and down the coast in early spring and late fall. 
For fishing from the Surf, in mostly colder type temperatures where I live in the northeast part of the country, I need comfort and warmth. I will be going with Breathable Chest Waders with a Liner for extra warmth. Throw in a pair of those warm knee-high socks. 
Hip Waders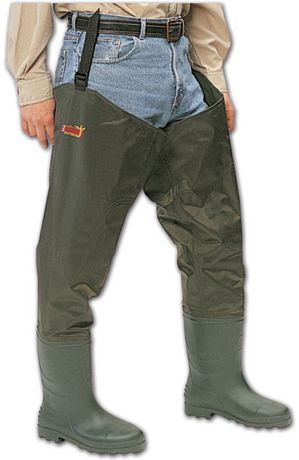 For shallow creeks and streams where you know the depth of the water is not going to be an issue. the water depth should be no higher than the knee level. They are the lightest and most comfortable especially in warmer temperatures. Great for days on the Delaware River which I'm lucky to live by.
They are priced fairly low for what they do. The bad thing about this type of waders and the material is that there made from a rubber-based fabric that is uncomfortable. The thicker the material the better the protection but they have some major drawbacks.
Waders can come with boots made into the legs of the waders, that can accommodate any foot size. They are called Bootfoot Waders. They will save you the cost of buying an extra pair of boots.  ACTON Prairie Hip Wader, Green
If the Neoprene Waders leak, then most likely they will leak from this area between the foot and shin. There is a lot of stitching at this location that can wear with use. Other than that they work well. Normally the shoes are cleated on the bottom to keep your footing.
Having Bootfoot waders makes it easier to put your waders on and take them off. The Bootfoot waders are lighter and help make it easier to maneuver on the sea bottom or whatever bottom you're fishing on. The boot foot has no laces on the boot which can add again to the ease of getting into them and out of them. The cleanup is easier too.
If you ever had a pair of waders, you know exactly what I'm talking about. Pull the waders off and hose them down for the next time out. The Stockingfoot waders require you to purchase a boot. This wader is a lot lighter and could be a better option if you are hiking and backpacking, carrying your waders to different locations.
Best Saltwater Fishing Waders
Where I fish in Island State Park in New Jersey there are two options. Either fish the 8-mile stretch of beach by hiking it.  Or you can drive with a special permit that allows your vehicle on the beach. The first you go Surf Fishing, you learn an important lesson.
I will be looking at around $450.00-500.00 dollars for my complete set. This should last me a few years of great Surf Fishing.
This will put me in the ocean from November until December hunting Big Bass in the cold waters off New Jersey. Giving myself an early Christmas present is just what I need.
For great articles on Saltwater fishing like this one-stay here on MyWaterEarth&Sky-After a long morning in the galley losing our breakfast, our group listened as my brother who was drinking a beer and holding a 20-pound Bluefish explained why he wasn't …………… Continue reading
JimGalloway Author/Editor