During the course of a Hurricane, any object that is on the ground can be picked up and thrown at your house. If it hits any windows it could open a hole letting in the wind, which will increase inside pressure and will most likely blow off your roof and destroy your house. Products like Impact Windows and the newest miracle, Hurricane Fabric, will both help prevent this from happening. What is the best Hurricane Window Protection Option and why?
Hurricane Fabric because of:
Low cost
Ease of use
lightweight
UV resistant
DP rating
Easy to store & assemble
High marks for Sustainability
It has twice the burst strength of alternative window protections 
that will prevent high-velocity wind from rapidly pressurizing the building causing more damage.
Most people in Hurricane regions of the US like Florida have been through more than one hurricane in their life. They prepare for the storms and budget for the expense of Hurricane preparedness. It's not a question of what if a Hurricane happens. In South Florida, It's when a Hurricane happens.
Hurricane Fabric
Hurricane Fabric is a resin-coated hybrid fabric that has nearly twice the burst strength of alternative window protection from hurricanes. Made of super-strong ballistic nylon that is similar to what automakers use to fashion airbags. These fabric panels are a far cry from the bulky, heavy metal shutters that everyone uses to use.
Besides being easier to install, the fabric guards get high marks for sustainability, especially when compared to the plywood many homeowners use to board up their windows then send them straight to the landfill when the hurricanes move past.
Hurricane Fabric delivers protection of your home or commercial property against hurricane-force winds and prevents the rapid pressurization of the building. The fabric is surprisingly strong and durable.
It's lightweight only weighing 11 ounces per square yard. It's approved and certified nationally in the Hurricane States, Insurance approved, and building codes compliant in states like Texas and Florida.
Florida Building Code approved hurricane products that protect the envelope of the building; preventing high-velocity wind from penetrating the openings and pressurizing the structure, which could result in the roof blowing off, the windows blowing out, with the consequent total loss of the structure. This is the science of Hurricanes and how it affects home in the danger zone. These kinds of products have been researched and have been experienced in the storms that constantly pound the Florida area.
Hurricane Fabric is a flexible fabric installed on windows and doors.  If a projectile hits it, the glass may break underneath. However, the material prevents the wind from getting through protecting the building's integrity.
It's easy to install and Blocks Wind and Rain, Up to a Category 5 Wind load.
It also protects against wind-borne debris. The material is UV resistant and translucent, installs fast and lightweight, and compact for easy storage for the next event. The fabric has been tested up against plywood and other types of hurricane shudder with good results.
Hurricane Fabric is used to cover an opening in your house. It can be hung by a professional or homeowner. It's not that difficult. The fabric is usually cut with a 4-inch overlap and both sides are attached to clips that are anchored to the walls around the window or door.
Once the Hurricane Fabric is cut to each opening, they are labeled specifically for space and put away until a Hurricane is approaching and the homeowner can easily identify each one and where it belongs on the house.
Fabric Hurricane Shutters Cost
 Hurricane Fabric is approximately $7-$8.00 a square yard in price and goes up over windows in as little as 15 minutes. They are attached to the outside perimeters of your home's doors and windows. This is an easy process that is done, the Fabric is easily taken down and reattached before and after each occurrence. They can be washed and stored in a duffle-type bag that fits on a shelf in your garage.
No more storing heavy sheets of plywood that are hard to handle and start to smell and deteriorate once they are wet and exposed to the elements in the Hurricane. One person can handle the task of assembling and disassembling the Fabric.
Some Hurricane Fabrics can contain a lock that prevents entry to that window or door which sometimes could be a problem that might happen after the Hurricane is done and some folks take advantage of the situation.
The protection offered up by the Fabric meet code enforcement in Florida if they are installed by certified installation contractors. 
Hurricane screens protect wind-driven rain and flying debris from entering your home. They are ideal for protecting larger openings such as lanais, balconies, storefronts, and doorways. Hurricane screens that meet most of Florida's requirements for impact and wind pressure are tested up to 276 miles per hour.
They are there to protect the bigger areas that the normal Hurricane Fabric can be cut to. They can be used on a track system that stays in place after using them. The Hurricane Screens zipper to hang and are easily taken down and stored away.
What Are Hurricane Impact Windows
For 25-30 years Hurricane Impact Windows was developed to reduce the damage caused by Hurricanes in the Florida area where hurricanes are prevalent. They used a type of safety glass that was developed for the automobile industry that uses an internal layer to keep the glass in place if it is broken in an accident. There are different types and degrees of Safety Glass:
Entry Level;  This resin laminated glass uses a chemical base to create the internal layer of polyvinyl butyral (PVB) or ethylene-vinyl acetate (EVA), between its two or more layers of glass. This prevents large pieces of glass from projecting as they would in an automobile accident. This laminated safety glass breaks like a spider web and cracks instead of blowing out like windows normally do.
Mid Range; PVB combined with a layer of PET (polyethylene terephthalate) makes for a very strong glazing option, but due to a challenging manufacturing process, these windows are also very expensive. These windows often consist of two layers of PVB-treated glass with a PET film between them. PET is what plastic water bottles are made of.
Liquid glass resins can be permanently applied to glass by a process that uses UV light as a catalyst to cure and harden it. In some versions, a PET film is also added to make the glass even stronger. Liquid glass resin windows are especially popular in Florida.
High End;  Another option is SentryGlas Plus (SGP). In this technology, created by DuPont, an interlayer of proprietary aminoplast material sits between panes of glass. SentryGlas is lighter in weight, stronger, and less susceptible to yellowing over time than other stormproof options. The SGP layer is roughly 0.90 inches thick. These windows are more common for commercial windows, though they can be ordered for residential purposes. They are among the most expensive hurricane-resistant windows. SGP is also used where bomb- or bullet-proof glass is required.
Impact Windows have different ratings and certifications that are labeled according to strict Hurricane building codes incorporated down in Florida, which lead the way in Hurricane Code Enforcement. Doors Shudders and Hurricane Windows are all certified in similar standards in Mississippi, Texas, and Alabama which use the Florida Building Codes standards called DP Ratings.
What is a DP Rating
A "DP" or "design pressure" rating is a numerical value given to a building component that represents its ability to withstand a given amount of wind load. DP ratings represent three performance elements
Structural load,
Water resistance,
Air infiltration Resistance.
A higher DP value indicates a window or door that can withstand more wind, water, and/or structural load than a window with a lower DP.
So, a window or door with a structural DP rating of 50 has passed a structural test pressure of 75 pounds per square foot (equal to a 200 mph wind). A product with a 50 DP rating for water performance has passed testing under conditions of 8" of rain-driven at 50 mph, while a 50 DP rating for air performance has withstood air infiltration at 25 mph. These are the Standards and ratings that developed in 2001 or so after Hurricane Andrew cause so much damage in those counties in Florida.
Not only do these types of windows provide safety during hurricanes but also are effective for eliminating noise and are intrusion resistant. They can be safer around children because the likelihood of a child going through one is lower than a regular sheet of glass. The temperature and radiation are resistant and the energy is conserved through these higher DP-rated performance windows.
Impact windows have also achieved HVHZ certification, which means they are tested and approved for high-velocity hurricane zones. Even if you don't live in an area where such strong winds are common, knowing that your hurricane-resistant impact windows could stand up to that kind of destructive force tells you that these windows are built to last.
How Much Does Impact Windows Cost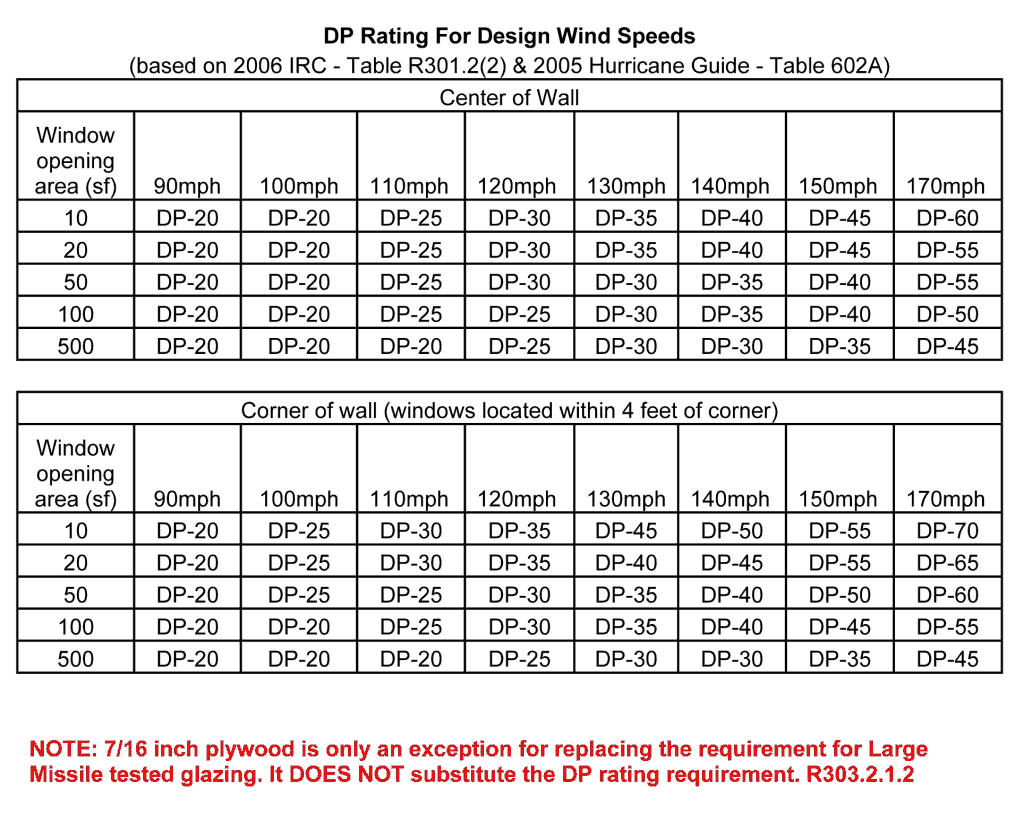 Genuine hurricane-resistant windows are expensive, at $40 to $55 per square foot, but they can be in good investment in regions prone to very strong winds.
The engineers who build the Hurricane Proof Windows and Hurricane Proof Doors say that the worst thing in a hurricane that can happen in someone's home, is if the windows and doors are blown out.
Not because the water comes into the home but because there is a change in pressure inside the structure of the house that is so sudden it blows the roof off and that creates a chain reaction that ends with the total destruction of the home. If the windows and doors stay on and together the integrity and structure of the house have a better chance of making it through the storm.
On average, a hurricane impact door size 60 x 80 inches can cost about $1,900 while a sliding window 72 X 80 inches is around $1950. An average single-hung window costs between $500 and $600, materials only. In the history of an area where resistance to hurricanes matters, it might be worth the extra money.
No glass is entirely break-proof, but hurricane-resistant, stormproof windows have the enormous advantage of breaking in a manner that cracks without sending out flying shards of glass. Some of the many benefits of impact-resistant windows:
Will survive winds up to 200 mph without blowing out
Have No flying shards of glass
Are available in different styles and sizes
Offer excellent insulation against sound
Blocks 99% of transmitted UV light
May reduce homeowner's insurance costs by as much as 45 percent
Add value to the home on the resale of the property
Some Disadvantages are:
 Are High cost and can add several thousand dollars in construction costs on larger homes.
 Is unnecessary expense in regions where severe storms are unlikely?
 Glass can be yellow on some types over time.
 Visibility can be slightly reduced in styles with thick glass.
Impact Windows Cost & Installation
Entry-Level Pricing: $350 – $500
Entry-level prices will usually be a composite or vinyl frame with a limited number of colors to choose from. The smaller-sized windows will obviously cost less and they will be fixed windows and cannot be opened for ventilation. The glass will probably be a resin laminate, which costs less than the other options – essentially the resin laminate is poured between the two panes of glass.
Mid Range Pricing: $500 – $650
Standard impact windows cost will range from $500 to $650 and will be a high-end vinyl or a lower-end clad window (maybe fiberglass on the outside and wood on the inside). Often they will come from a mid to well-known brand and may be able to be opened. The glass material might be a polyvinyl butyral (PVB), which is one of the more commonly used materials. It will use good argon or krypton fills and good hardware.
High-End Pricing: $650 – $900
High-end impact windows will be wood or wood-clad with fiberglass or fabric exterior wood frames. At this price range, the window may be larger and is often a custom order, allowing homeowners to choose more options in the color, size, and frame setup. The glass package will include Low-E, krypton or argon fill, and foam insulation. The material in the glass will probably be SGB, which is harder and stiffer than the polyvinyl butyral. This material is what is used in many bullet-proof windows.
Hurricane Survival Plan
No matter what happens with your property your life and the life of your family are much more important. The reality is that in a Category 5 Hurricane whatever you use to try and protect your home may not be enough. If you and your family had to evacuate where would go and what would you take with you? A Hurricane Plan is what you need. The time to prepare for an emergency is right now not when the order is given.
This Plan is the One that is recommended by the Federal Government in the event of an Emergency:
Get a copy of a Disaster Plan for your family. Sit down and go over the whole thing with everyone. You can get these Plans from the American Red Cross and the National Weather Service.
Put together a Disaster Kit. It should contain water: 1-gallon per/person-per/ day-Can and Boxed Food that won't spoil. At least a 7-day supply of medications. A First Aid Kit A flashlight and special items for family members that are elderly or a child or a member with physical disabilities.
Buy an NOAA Weather Radio All Hazards. It will broadcast warnings, watches, and forecasts 24 hours a day, every day until a hurricane or another dangerous weather event is gone. Weather Radios are sold online or at any store that sells TVs and radios. When the NOAA issues a Hurricane threat it means that a storm with winds over 74 miles per hour is a threat for 36 hours that is the time to pull out your kit and put the Hurricane window Doors protection and test the generator and fuel.
Bring in any furniture off the patio and the backyard that could end up being a projectile.
When the National Weather Service issues a Hurricane Alert it means that the storm will hit your location within 24 hours. Once the Hurricane Warning is issued it is time to sit tight.
Do not leave your house during the storm. Hurricane-force winds are extremely dangerous. It's only when the Emergency Managers tell you to evacuate then you do so right away. Many people that stayed put through Hurricane Katrina after being told to leave were injured or killed.
Pack up your pets, medicines, the deed to your home, and other emergency items, and get out! It's only a matter of time before a devastating hurricane hits the coast where you live. Make sure you are prepared.
Don't come back tour home until it is deemed safe by local authorities
Having been through 2 Hurricanes myself,  I was able to use plywood that I cut and prepared earlier and buttoned up my home in New Jersey. The hurricane was small and caused very little damage to my home and the home of my neighbors. The next one, a year later destroyed my home. I hung the plywood that was pre-cut and had everything all planned. It didn't matter.
That storm was Hurricane Sandy which became Tropical Storm Sandy and that storm took my whole house and gobbled it up. Nothing mattered but my wife and kids then. We were forcibly evacuated by the Army Reserve. It was a trying time.
I learned to always be prepared. If you can make preparations to save your home. Do it. Spend a little time and money and do it. But nothing matters more than your family to make preparations for your family too.
Make an Emergency Hurricane Plan and stick to it. Do it today!
After living through a few, I think Hurricane Fabric could be a miracle to folks living on the shoreline and exposed to hurricanes and storms moving along the Eastern coastline 
JimGalloway Author/Editor