The first time I saw a SUP was at the park 4 or 5 years ago when some girls were taking a yoga class on them and I thought to myself what were they doing on a Surf Board in the lake then my 2nd thought was what would I need to fish on one? Other people were thinking the same. What Gear do you need to set up a SUP for Fishing?
SUP Suction or Attached Mounts System
Paddle Clip Mounts-SUP Rod Holders
SUP Track Mount System-Air Pump Compressor
SUP Stabilizers-SUP Anchor-LED Light Systems
SUP Deck Bags-Life Jacket
Electric Trolling Motor(optional) with Remote
Fishing Cooler Box(Seat)
Stand Up Paddle Board Storage Rack-SUP Board Dolly
Since then, a world of SUPs has opened up for a lot of different activities one of them being my favorite pastime, no not Yoga my other favorite pastime, Fishing.
SUP Fishing Setup
A Stand-Up Paddle Board's construction can Be an Inflatable or Carbon fiber style that is like the plastic kayak construction and the Fiber Glass SUPs construction which are heavy and durable. The Standard SUP board is foam filled and looks like a surfboard and is the most common of the Stable Up Paddle Boards. There are basically 3 types of shapes of SUP boards that you can use for SUP Fishing.
 The surfboard shape
The V shape Hull
The Catamaran Shape
The Surf shape is small but lightweight. You can easily move it and store it in or out of a vehicle. It's very convenient and used for surfing. The bad part about the board is the front of it is rounded and raised up, this creates a lot of drag.
The waves smack the raised part of the board as you move through the water. This will cause some noise. For this reason, any fish won't be hanging around the area that the board is moving through. it's hard moving into the wind and your momentum gets lost because of this drag effect.
It also has less width which might be good for other activities like surfing but not for fishing where you need more room.
The V-hull-shaped board naturally cutting through the water will have some faster and freer movement through the surface of the water.
On longer distances and more hours on the board, the V-shaped hull will make it easier on you with less exertion and more distance.
The Catamaran-style SUP board gives you the best of both worlds. It can accommodate you and your equipment along with the two V-shaped hulls on the front of the board that gives it ease of movement.
It has a bigger surface area and platform that will give more space. It's more stable but because of that, it will be heavier. Your needs might be different from mine.
If you don't need the extra room or platform and you are more interested in portability than size for accommodating equipment then the smaller boards may be what you need.
Another important variable in picking out a board is how comfortable you are when riding it. The only way to find out what kind of board you are comfortable riding is to test one out for yourself.
Just like ringing a bike and especially if you've never been on one before then you need to get on a board and paddle around on the water.
There is a new type of SUPs that is made exclusively for fishing and is already decked out with equipment. They are heavy and harder to use than a standard paddle boat. The amount of fishing equipment they put on these higher boards makes them heavier and more expensive.
You may want to pick out a board and set it up yourself.  Remember the wider the board the more stable it is, but the wider the board the harder it might move around for a longer length of time while fishing. Somewhere in the middle is what you want for Fishing Board. 
The Best SUP Setup for Fishing. Sup boards are made for fishing. You can find any type of equipment that can be attached to your board that can be attached to a skiff or a kayak.  The board has the versatility that other small vessels don't have.
You can access very shallow water and drag your board over a sandbar to get to a spot that you wouldn't be able to in any other fishing boat.   Motorize Your Fishing SUP board You can motorize your board with a lithium battery-operated drive system. Easily installed even on inflatable boards.
I found this amazing. These electric motors attach to the fin box and are held in with a retaining clip. The battery is bungeed onto the paddleboard on the hooks and you're ready. There are lots of modifications that need to be done to your board. There is a wireless remote that attaches to your wrist or the paddle.
Once you are on the water you can push a button for on/off control. You can paddle or not. It offers the convivence of if you get too tired then you can turn it on. This motor called a Michael Dorsey Designs E-FiN – Motorized SUP Fin – Paddleboard Electric Conversion kit
can be attached by an adhesive too.
The motor can run up to 6 hrs. and comes with a 110-volt battery charger. You can also use an Electric Trolling Motor These setups are great for windy days on the water when you need to get somewhere else fast. Once you attach the motor you can use a kayak paddle to steer your board from left to right.
This 12 volts 40 Ah battery will run full throttle for 1 hour. You can size your motor thrust to your SUB board weight to give you some speed and more power and time.   SUP Mounts

 Rod mounts can be attached to your board by a Suction System or a Vacuum System.
This system allows the SUP operator to lay his paddles down to fish. The Suction can be applied anywhere on the board that you need and can be changed as much as you want it to. They hold up to 150 lbs. of pressure applied to them so you won't be worried about losing any equipment. They require a flush surface with no dimples so they can attach firmly.
Clean and dry the surface. Then wet the suction cups before you apply them to your vessel.   Scotty's Rod Holders
is recognized as one of the leading manufacturers of rod holders and rod mounts.
They specialize in any kind of attachments for downriggers and rod holders for kayaks Paddle Boards and any other kind of vessel. Bait caster or Spin caster rod holders are designed to hold a bait caster reel in a cushioned cradle.
They make Camera mounts that attach to a GoPro and your vessel or Transducer Mounting Arms. They make any kind of rod attachment for bass, trout, or any kind of water fresh or salt. These Rod Holders are what people use for decking out their Kayaks and SUPs.
Scotty's new Ball Mount Systems enables a full range of motion for a variety of accessories. They have what's called a Bait Plate that you can use to store lures and cut your bait from a rod holder attachment on your SUP. These guys make it and make it good.
You'll find any of these fine items for SUB or Kyacks on Amazon. For the latest prices and reviews on Amazon for these and other SUB, products Check Here.   Track Mounts Systems are made so numerous rod holders, Paddle Clip mounts, or other equipment can slide onto the track and take off very quickly without the need for physically attaching it to your board. With this type of system, you can add as much equipment to your board as you want.
That means coolers or electronic equipment or any kind of fishing equipment that you want on board.
The Key to decking your SUB out for Fishing is the use of Fasteners, Holders, and Mounts they can transfer your board from a Yoga Class to a Badass!
SUP Fishing Accessories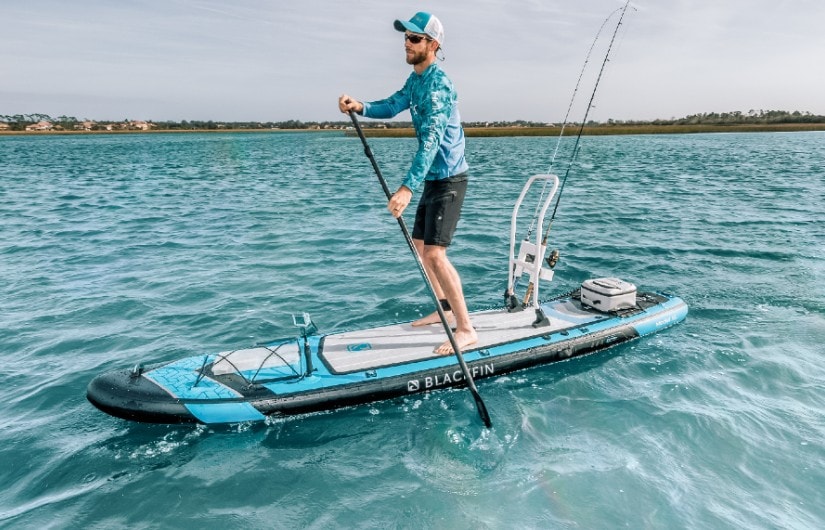 Your SUP board space is a premium, everything needs its own space. Space is critical. Now that you have picked the SUP board that fits your desire and comfort, Deck it out to transfer it from a Yoga Vessell to a Fishing Vessel.
Now you need to catch fish.
Stabilizers-can help with the extra weight of your gear and some extra balance along with the added motion of Casting and landing a fish.  Converts any kind of SUP to a platform
Seat- Standing all day can be a little too much. A lightweight folding Beach Chair will seal the deal. You can attach it very easily to your board.
Cooler/Dry Box-Seat- You need things Cold-Warm or Dry. Insulated Cooler Boxes are perfect for the Stand Up Paddle Boards. They have an airtight gasket that keeps hot air out and cold air in. They are waterproof up to 3 feet. These boxes are perfect for keeping food fresh and storing electrical equipment like cameras and medical or safety equipment.
Customers have great reviews about this box and where space is premium like on a SUP this box can be utilized as the Captain's chair.
Anchor- If you are going to fish or take a break you need an anchor. This piece of equipment is very inexpensive and they weigh a couple of pounds that is all you need with about 15 feet of nylon rope.
Digital Electric Air Pump Compressor – 110W 12 Volt Quick Air Inflator / Deflator w/ LCD, 0-20 PSI – For Inflatable SUP Stand Up Paddle Board / Boat, Water Sports Inflatables – SereneLife SLPUMP30
Stand Up Paddle Board Dolly
This will transport your board from the car or truck to the water's edge. For a few bucks, these things are great on your back I can recommend them. LED Light Systems for paddling and fishing at night. Submersible multi-colored lights are waterproof so you can mount them under your board.
Deck Mount Storage Bags for storing smaller dry bags, easily attaches to your SUP and are made of mesh for draining excess water. Keep all your dry bags in one spot.
Stand Up Paddle Board Storage Rack by Zero Gravity Racks – Home & Garage SUP Storage Rack – Patented Stand Up Paddle Board Lift Storage System You can make some DIY details on your board yourself as long as you have some items hanging around the house. I used an old plastic milk crate for storage and to hold tackle and rods. You can still buy them online.
I attached the crate to my board with a couple of bungees. I Attached some PVC pipe from Home Depot that I cut and use as rod holders then attached them to the inside of the crate. I used my ice chest to store cold drinks and bait and as a seat. I was fishing on my SUP in no time.  You don't need much.
SUPs (Stand Up Paddleboards) are H2O boards that can be outfitted for fishing, cruising, exploring, or any type of recreation that is done on a lake, river, or ocean activity SUPs come in: inflatable or solid construction 3 sizes & shapes Short-<10′ Medium-10-12′ Long-12′ 6″ 2 Hulls-Planing & Displacement ……………………………………………………………………… Read more
Paddle Board Safety
Fishing involves some motions that sometimes we aren't' t aware that we are doing. Did you ever watch someone cast a line and overthink what they are doing? It may be a YouTube moment, unfortunately, you didn't bring a camera. Standing on a SUP and casting are somewhat similar except for the balance part of it. You need to be aware of your situation and keeping your balance is part of that situation.
Limit the gear you are going to bring on board. Space is limited and important so don't bring a lot of things that you may not use. Sometimes you can get a better feel of the water in a lake around you by shutting down the radio and motor (if you are using one) and letting the current take the board and you to a natural drift in a part of the lake where the fish might be.
I use smaller rods that are matched well enough for what I'm trying to catch. Make sure you take into account wind and currents and tide when choosing fishing grounds.
Remember wherever you paddle you are going to have to paddle back. It may be through these elements of wind currents or tides. Always carry an Anchor. Always have gear that you may need in reaching distance on the SUP. This will limit you from walking around looking for a tackle.
Stand Up Paddle Boards have a different perspective than Kayaks and canoes because you are standing up and notice things on the water that wouldn't be sitting down lower to the surface of the water.
That could lead to other problems like standing too long in the sun or losing your balance which is bound to happen. Have a place to sit down every now and again. Keep protected from the sun. Out on the water, you can't get away from it. Carry a cell phone. in a watertight bag or container that is fully charged.
Get the latest weather forecast and GPS. Carry water. Leave a float plan a general idea to a reliable person by text. They will know your launch time your approximate destination and when you will be returning home.
Always secure a paddle holder onboard. Leash your paddle to your body. Use a leash in bigger water just in case you fall off you'll have a way of retrieving your board. Wear sunscreen and if you are trying colder water then wear a wet suit.
If you are a beginner you shouldn't be in colder water. The chances of you falling are fair significant. If you can then paddle with a partner. You are always safer with a partner on the water. Even an experienced Stand Up Paddle Boarder.
Be aware of shallow water anywhere you could stick a fin in the bottom. if you were to be moving and do this you could take a header. Always wear some kind of PFD a jacket or belt or something that could save your life someday.
SUPs are small and lightweight but considered vessels and PFDs are mandatory for all vessels. Happy fishing.
Here are my 10 Tips for what you need to know to Experience SUP Fishing.
You need to Know How:
To choose the right Board
To operate a SUP
To Dress your SUP for fishing
Only take things you will use
To Pick accessible spots
To Navigate water safely
To learn to Cast from a SUP
What to wear for SUP Fishing
To Use Safety Equipment
To Use SUP Etiquette ..

…………………………………………………………………………………………………………. Read more 
JimGalloway Author/Editor