A lot of folks these days are taking the soda out of the fridge for the Holidays and replacing it with bottled water or some drinks that have no sugar ingredients. Health-conscious adults like myself would much rather drink something that is good for you than sugary soda pop or bottled water that may or may not be healthy for you. What are the benefits of fruit-infused water?
Helps with Weight loss
Enhances Toxin Removal in the body
Boost your Immune System
Aids in Digestion
Fruit contains Alkalinity
Improve overall health 
The Benefits of Hydration
The benefit of staying hydrated is a critical function that keeps the body and organs working properly. Adding healthy fruit and herbs can help your overall health. Here's How!
Infused Water vs Regular Water
Did you ever come out to the living room where the kids were watching TV and clean up soda cans that were all half full? If you had a few kids like me, yup, you did. So you buy bottled water but that's not good their bad for the environment and who really knows what's in that water? Besides your kids take a sip out of them and you end up throwing them all away too.
How long did the bottled water sit in a warehouse before it got to your house? Do you know how long it takes for a plastic bottle to decompose in a landfill well, it's a matter of hundreds of years. According to the National Oceanic and Atmospheric Association is approximately 450 years. Plastics are ruining our oceans and leaving a mess for generations to come.
Water is the most abundant and healthiest form of hydration. It seems to be the most logical way for the entire family to use what we have at our fingertips. Now with water filters and water conditioners, you can get a sparkling refreshing drink flavored naturally that your children and friends will love. Adding fruit to water will only make it healthier for you.
You'll drink more and less soda and other drinks that are not as healthy for you. The recipes are easy to create and are seasonal.  Around the Holiday Season, we have a few that are mixed for the adults, if you know what I mean. You can buy Infused water at the Supermarket in 6 or 12 packs already mixed that are made by Dasani or Aquafina bottled water companies.
They have a splash of different flavors that comes in sparkling water for a more soda-flavored experience. Or you can make it yourself with natural flavors in your own kitchen. We have a Water Filter and mix a fresh pitcher once a week. The kids love it. There are all kinds of recipes available online that are packed full of vitamins and minerals that you will find in your product from the supermarket.
With your own naturally flavored water you won't have to worry about the kids drinking too much sugar and ruining the rest of their meal. This has a huge amount of Benefits by itself.
It's a lot better for adults too how many times have you heard how soda even diet soda is instant calories and horrible for anyone who drinks it. Most fruits will work just fine and you even add a bit of spearmint, basil, or peppermint to the mix to make it more refreshing.
Store-bought Juice for the kids is a good idea, but kind of pricey. Water flavored naturally with fruits is perfect for quick refreshment especially if your kids do what my kids used to do and my grandkids do now. Drink a sip of whatever is available and help themselves to more.
Simple Fruit Infused Water
​My wife and I started drinking lemon-infused Water or as we use to say, we just drank water with lemon in it. The reason was Ice Tea started keeping us up all night. We had heard about all the good healthy things lemon water did for you, especially in the morning. It was very good for digestion and cleansing your body. We started graduating from there with other fruits and herbs like cherries, peppermint, and spearmint.
There are all kinds of recipes available online that are packed full of vitamins and minerals that you will find in your supermarket. With your own naturally flavored water you won't have to worry about the kids drinking too much sugar and ruining the rest of their meal or banging their heads on the ceiling.
Fruit Infused Water Recipes & Benefits ​
There are many flavored drinks of water you can make if you use your imagination you may find one that really becomes your favorite not only for the summer but all year round. Some people make Sangria which is a mix of a few different berries.
One thing to remember is the longer the fruit is infused with water the stronger the flavor is. There are a few secret ways to mix the fruit in your water. There are also sweetener products on the market that can be added to water drop by drop that have different types of fruit flavors.
You can add but if you are looking for a pure natural product then fruit and water are about as natural as you can get. Before you experiment with a few recipes here are a few things to remember.
Make sure the fruit you pick out is washed thoroughly
slice or dice and put it into the container.
Let's sit for 4-5 hours. Keep Cold.
Pick out a fruit that is your favorite like cherries and put a handful into a blender-
Add a small amount of water and blend it for 30 seconds or so
 Pour the contents into an ice tray and freeze in the refrigerator.
Serve the filtered or sparkling water with a few frozen fruit ice cubes. According to your taste. Really good and colorful during the Holidays.
Mix all the berries and fruit for a Sangria. Fruit Intrusion Pitchers that hold fruit and water in and come in different sizes and are kept in your fridge for periods of time. In this container, your mix is good for 4-8 days cold in the fridge. ​ A personal favorite of mine is
Cucumber Water
cut 2 medium-size slices of cucumber and add to the water
cover with ice and a half of lime and some slice of lime
6 or more sprints of Calando to the container and infuse in the fridge for 4-8 hrs.
This water is great for boosting your immune system, relieving abdominal distention, controlling digestion, and helping with digestion. Recommended to people for weight loss. Awesome I didn't think I would like it -I loved it! ​
Green Tea water
I have arthritis and have known the benefits of Green Tea for a long time. This flavored water is known as an aid to burning fat and improving and stimulating your digestion-Relieves headache along with fighting congestion and freshening your breath. Taste really good ice cold and has health benefits if you drink it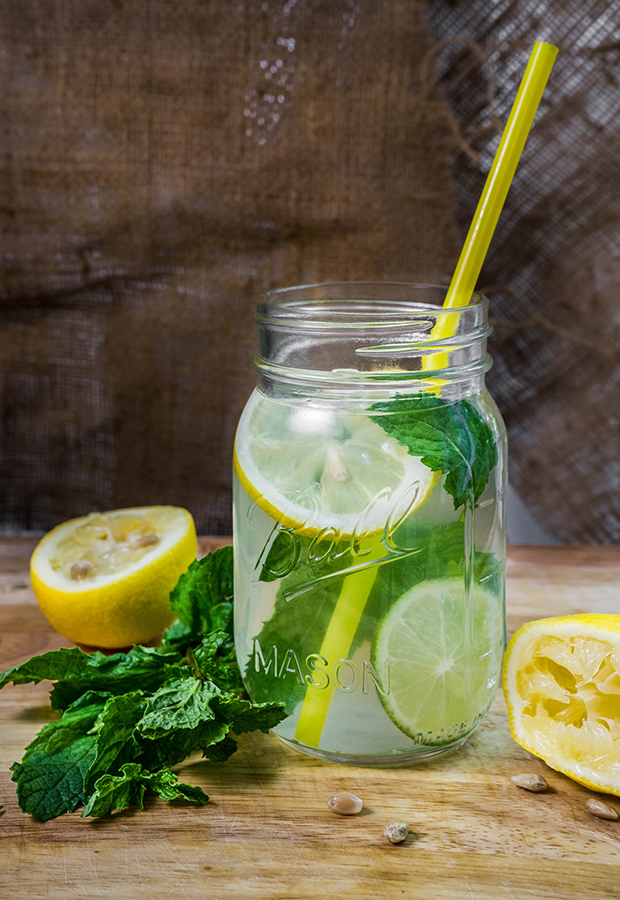 ​Kiwi and Strawberry
This delicious Infused water is refreshing and also very good for you. This water will give your body a boost and it will improve digestion and the cardiovascular system. Also, improve blood and sugar levels. ​
Watermelon Water
This Water is great for fighting fluid retention-stimulates fat burning-Cleanses your body and keeps your skin super hydrated. Recommended for people who want to lose weight and suffer from dry skin. Taste good too! ​
Blackberry Lemon and Mint
This natural water has a high antioxidant power that prevents chronic disease and also boosts cellular regeneration. Consuming this every day will keep you hydrated and stimulate toxin elimination and is great for preventing premature aging.
Quick Tips For Naturally Flavored Water-From My Wife's Favorite Recipes
Don't forget -try using different combinations of herbs with combinations of fruits.
Watermelon with Lime wedges and Jalapeño-Yup!!
Pear Slices with Cinnamon Sticks and Vanilla Bean
Strawberries-Lemon juice with sprigs of Rosemary-ginger or mint.
Strain with a cocktail strainer before pouring
Used Alkaline water or PH adjusted along with the filtered water for this total healthy experience.
Keep it in the fridge(it will last 4 or 5 days just fine) If the kids or if you have grandkids see it in there, they'll drink it. that's our experience. It is so much healthier than them grabbing cokes or any kind of soda with sugar in it. I have been looking at the Hydroponics garden for the kitchen to grow some herbs fresh. We can just pick the herbs and add them to the water for a complete, healthy, and inexpensive experience.
Coming from a guy's point of view the flavored water is a big hit when I take off down the shore for saltwater fishing. Especially after a few beers the night before, which always seems to happen for some reason when I and the guys get together. They all love in the morning before we head out fishing or hunting. It's a real thirst quencher and a healthy pick me for the start of the day. I'll mix it up and pack it away in our coolers before the trip.
When my friends and I get out fishing in the ocean, it's really important to keep hydrated and to watch out for any signs of heat exposure. My secret weapon is my Infused water and it is a favorite for our trips. The flavored water is a blend of healthy flavors and sometimes, a little something extra.
It's a great idea for any kind of outdoor activity. Especially in the summer. I can say with some authority that it is pretty easy to make the trips. I'm, not the most hands-on person when it comes to preparing meals or cooking but the waters are not hard to prepare at all. The most work is getting to the supermarket and deciding what flavor the guys want. Whatever it is, They'll like it.
I can remember the first time my wife made it for us on a Charter Boat trip that lasted about 10 hours on the ocean in summer temperatures. I got a big laugh when I took a jar out of my iced cooler. After I passed it around. Everyone seems to change their mind and now I get a request on what kind of fruit-infused water to bring on our fishing trip. There is always a big pitcher of Healthy Fruit Infused Water in the fridge for the kids and us.
*Thanks to my wife Sookie for the help on this post. The Apple & Pomegranate Fruit Infused Water which is the Article post picture is one of my Recipes with a dash of cinnamon that is off the hook delicious.  Jim
JimGalloway Author/Editor