If you are like me, the outdoors is the best place to be. Whether it's hiking fishing or camping nothing beats activities that get you out of the house. With the outdoors come responsibilities, besides the fun that goes along with it. More and more experts believe that proper hydration is an important part of any activity and at any time of the year.
Hydration Packs are a newer concept that helps add more fun and safety to whatever outdoor sport you're into. How many times have you had to stop fishing to run through your coolers and locate a bottle of water?
Hydration Packs are a perfect idea for a fisherman with two busy hands and no time to leave his spot to fetch some water. What is the best Hydration Pack for Fishing? I had an idea of what a fisherman needs and doesn't need in certain situations. He/she could be fly fishing in a stream. They could be on a Charter boat for a 1/3 day ocean trip. They could be in the surf with chest waders on in 3-foot waves.
But one thing that was common in all of these scenarios was I always hated stopping fishing, putting down my line, and walking to a cooler to find something to drink. It takes away from the moment. It's Down Time. Hydration Packs would erase that problem. Most Packs are made for hikers, cyclists, and runners. I needed to find one for Fisherman.  I did some research. Here's what I found.
Best Hydration Pack for Fishing
Have ever been on a Charter Boat out a few miles on the ocean around 2 pm in June fishing for Bluefish? The salt air can dry your lips up until they crack. You are waiting for the horn to go off from the Captain that lets everyone know it's time to cast off and drop your lines. The frenzy is on.
We are on top of a school of Blues that is thick in the water. Not the time to light a cigarette or look for a cold bottle of water or any other beverage. It's worse on the pier or on the surf because you got two hands on your rod and if you ever felt a Blue hit there is no time to reorganize yourself and then give the fish some attention.
Hydration Packs are perfect for Head Boat or Surf Fishing where leaving your spot for a few minutes might mean the difference between missing a strike of a Big bass or monster blue. Because when it's your turn there is no second chance.
There are no excuses that I have heard about the "one that got away" because I was looking for a bottle of water when the Bass hit the Surf pole and pulled it out of the sand spike. But I would bet the barn that it has happened to everyone at one time or another.
Just as in kayak fishing or fishing from a canoe, both hands are needed for the operation to work well and to be successful. With a Hydration Pack, you would never have to worry about the effects of dehydration or abandoning your post at a critical moment.
 How Much Do Hydration Packs Cost
The wide cost differences of Hydration Packs rely on a few categories that will dictate the price. The popularity of the packs has created a demand so now you are seeing them in the lower price retail store where they weren't there last year. In Walmart, you can find a few models for under $20.00- 50.00 dollars.
They probably work but the best thing to do is weigh it out and decide if you looking for a Real Hydration Pack, think of it like fishing equipment. Good equipment is reliable and will last a couple of years and has the durability and functionality that you need as an avid outdoor person will cost some more money.
Mini Hydration Pack 
There are Hydration packs that are made for kids to take to Amusement Parks like Disney or Six Flags. There are good for the kids and Moms and Dads will like them too.
They won't have to fork out extra bucks on hot days to keep the kiddies hydrated. I can appreciate that, I just took my grandkids to Dorney park here in Pennsylvania, a month or so ago. They keep their bathing suits in the Hydration Pack along with flip-flops. They use it at the boardwalk and the beach too.
An outdoor activity like Surf Fishing is a whole different ball game. You need a few more important-dependable features that you will only find on higher-end packs used for serious Cycling, Hiking, Fishing, and Camping. The prices for these are between 100 and 300 dollars for quality items.
Real-quality Hydration Packs contain:
Anti-Gravity Systems are engineered in the product with suspension systems that transfer the weight of your pack to your hips and shoulders.  Access to pockets at the hip area that is not found on less expensive models. More storage area for equipment that you will need t carry in most activities like first aid kits or emergency items such as alert whistles, flashlights, and poncho for rain gear even in my case, spare tackle. Some Hydration Packs are designed for dual uses to work with PFD(Personal Flotation Devices) and Backpacks.
Bigger Pack Capacities that come in handy for trail hikes or long days on the surf are something Anglers would need as long as it doesn't bulk you down wearing it. The cheaper units just are used for kids and soda intake while the Real Deal Hydration Packs models concentrate on the full outdoor experience. There is just no comparison.
Peripheral Framing- Well-made Hydration Packs have wireframing that runs through the central core of the pack. This is constructed to spread the weight of the Hydration Pack across your back from your hips and torso. These designs in construction aren't on all Hydra Packs. They developed special pads that can keep your back cooler by allowing airflow between the Pack and your back.
They also are made from a better material that will last a lot longer than the cheaper Packs. The Better quality Packs have compression strapping for easier adjusting to lighter and heavier loads keeping that load weight off your lower back. The most important feature would be an easily removable reservoir that can interchange with other Hydration Packs and Back Packs.  Women's Hydration Packs are even cut differently to fit a women's body more closely and comfortably along with more colors and styles that she may appreciate.
Best Hydration Vest
With all the outside activities that people enjoy today, Hydration Pack is a solution for a lot of different people and a lot of different types of sports and activities. The best way for picking one out is to start with a few questions:
How much water am I going to need
What Type of Activity is it?
Do I need any specific features on the pack?
Hydration reservoirs come in different sizes depending on how much water you need to carry. They vary in style and sizes to carry the gear depending on what activity you are participating in.
A cycling pack might be geared towards a narrow Pack that accommodates what a cyclist would use such as Tools, a tire pump, or Helmut. A runner's Pack is lightweight, stable, and low profile. With easy-access pockets.
There are some Hydration Packs that are designed for winter activities that have insulated specific features pockets and storage. Some Hydration Packs are designed with larger capacities for longer outside activities in mind like long hikes or marathon races.
Reservoirs or Bladders come with wide openings for an easier fill and have baffles to keep water from sloshing around. If you are fishing in the Fall and Winter you're going to need the insulation around the water reservoir and sip tubes hose to keep it from freezing up. The hoses are made from tangle-free and very durable polyurethane.  The bite valve tubes should have a shut-off valve that keeps the Pack from leaking when it's stored or not being used.
Hydration Reservoirs are in the 1 liter-3 liter range and expert recommendations are 1 liter of water per 1-hour activity.  Reservoirs in the 1-2 liter range are recommended for trail running and mountain biking. It's more balanced and easier to carry for shorter trips balance is another consideration when doing Paddle boarding or SUP (Stand Up Boards) Boards. when standing for periods of time is important.
Reservoirs in the 2-3liter range are mountain biking and all-day hikes. Also, in desert activities where you may run out of water and into a problem you'll have a bigger supply. I plan to use mine for Surf fishing. So it needs to be well insulated which will hopefully keep my water amazingly cold for a long time on a beach.
The capacity is a Pack is an advantage, especially for an activity like fishing. There are always a few more items that you can take with you.  I would need some extra space and spare pockets for tools that keep me fishing and just a few pieces for tackle or tools so I don't put the rod down. I'll carry a small flashlight and maybe a few jigs and bucktails that are quick to change along with a snack or two. NO Down Time. That's the Ticket.
That's a plus in most outdoor activities. A Hydration Pack with some pockets or compartments at the hip level where they are easily accessed is a huge plus, especially at night. when it's harder to see. You can't carry that stuff on your back. It needs to be available on-demand at your hip.
Companies like Osprey and CamelBak are good Packs that run between $150-350.00 in the dollar range and are targeted to the Outdoor person, mountain Biker, or fisherman. Amazon carries all types of Hydration Packs too from the most inexpensive for the kids who like the idea of having their own personal pack to the serious sportsman or women. For the real deal, you need something reliable durable, and practical for the activity or event you are participating in.
Best Hydration Pack
Companies like Osprey and CamelBak are good Packs that run between $150-350.00 in the dollar range and are targeted to the Outdoor person, mountain biker, or fisherman. They incorporate specific details into the packs depending on the sport and activity the buyer is involved with.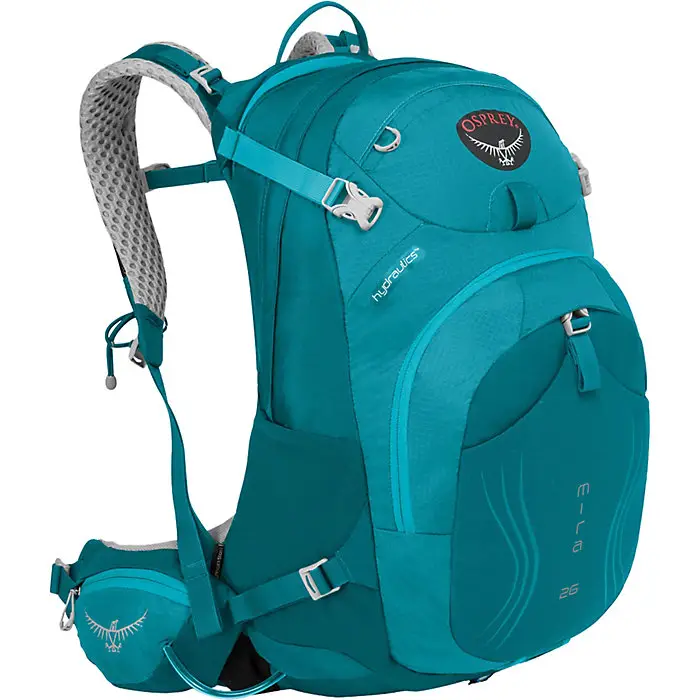 Of all the Hydration Packs I looked at in this price range the one that really struck me as an option for fishing is the Osprey Packs Sylva 5 Women's Hydration Pack, Downdraft Grey
These Packs also have a unique padded back piece to allow airflow between your back and the Hydration Pack for a nice cooling effect especially good if you are in the hot sun. This pack is equipped with different size purpose-driven pockets to assure you can bring along anything you need.
Other men's Pack sold on Amazon are Osprey Packs Raptor 14 Hydration Pack, Black
Dedicated hydration compartment with included Osprey Hydraulics LT 2.5L Reservoir by Hydra Pak

Included removable roll-up tool pouch keeps tools handy and organized

Lid Lock bike helmet attachment

Lightweight sternum strap magnet for easy access to water

Scratch-free heat-embossed zippered slash pocket for sunglasses and electronics
It has small pockets built for keys and credit cards and larger pockets for other gear like lures or spare tackle. the larger pockets can fit up to a 13-inch laptop. The best part of the vest is it can add more space to itself with multiple carabiner attachment points and exterior pockets for even more available space.
Constructed with durable polyester material that is water-resistant and made to last for years. There is even an exterior headphone jack on the Pac. The vest weighs in at about 1 pound 5 ounces. With a Unisex style. It comes with a 3-liter water bladder. This is my pick for a fishing Hydration Pack. 
Once you purchase a Hydration Pack, you need to maintain the reservoir. Clean it inside with soapy water. Or a little water mixed with bleach. Some Packs like CamelBac will give you special brushes that are used to clean the bladder and the tube.
They also include a plastic spreader that allows air to dry the inside of the reservoir and a hangar to hang it up for more drying, thoroughly until it's ready to fill again. It's important to keep the reservoir clean of any bacteria or fungi
Fishing Hydration Packs are ideal if they are lightweight and comfortable, especially in summer temperatures. Pockets at the hip for easy access to tools of the trade and a big-size reservoir-insulated for high and low temps to keep you at your spot all day.
For the very best articles on Fishing accessories like this one just stay right here at MyWaterEarth&Sky-When fishing for fresh and saltwater species with size and teeth, it's important to use a leader line to increase the odds of landing the biggest fish of the day……….… Continue reading
JimGalloway Author/Editor