The recent tragedy of the collapsed condo in Surfside, Florida which created a huge loss of life is in the news as search and rescue continue in this terribly sad event that has captured worldwide attention and recognition of the danger of Sinkholes. Although they are found all over the planet, Florida seems to have more than its fair share of big ones. What causes sinkholes in Florida?
Florida's many Sinkholes are due to its geology of Karst Landforms with no drainage made up of carbonate rock & dolomite creating a cycle of erosion that dissolve over time from heavy rains, drought, & manmade activities such as excavations, pumping, & drilling as the population grows & develops.
Sinkholes happen worldwide but Florida has definite regions where sinkhole risk is considerably higher. In general, areas of the state where limestone is close to the surface, or areas with deeper carbonate rock but with a conducive configuration of water table elevation, stratigraphy, and aquifer characteristics have increased sinkhole activity.
According to the the United Staes Geological Service (USGS) A sinkhole is an area of ground that has no natural external surface drainage when it rains the water stays inside the sinkhole and typically drains into the subsurface. Sinkholes can vary from a few feet to hundreds of acres and from less than 1 to more than 100 feet deep. Some are shaped like shallow bowls or saucers whereas others have vertical walls; some hold water and form natural ponds. Typically, sinkholes form so slowly that little change is noticeable, but they can form suddenly when a collapse occurs. Such a collapse can have a dramatic effect if it occurs in an urban setting.
Sinkholes in Florida
In Florida, Sinkholes have unfortunately made the news lately in Surfside, Fla. The death toll in the collapse of a Miami-area condo building rose to 79 as of this writing and is expected to rise as recovery workers toiled for a 16th day to find victims in the rubble of the condo. Another 61 people remain unaccounted for.
The search for an explanation comes with a sense of urgency not only for other buildings near the complex but also for a broad part of South Florida, where high-rise condos, many of them decades old, are located on the edge of the Atlantic Ocean, exposed to a barrage of hurricane winds, and storms.
Sinkholes don't just happen in Florida but Florida is said to have more sinkholes than any other state in the USA. This is because of the geology most of the state is underlain by limestone or evaporites and the climate. The plentiful rainfall means there is water to dissolve the rocks, while the presence of wet/dry seasonal changes can make sinkholes more likely to collapse.
It's not just the natural reasons for rain dissolving the ground sediments that cover buried cavities in the aquifer systems that are delicately balanced by groundwater fluid pressure. The water below ground is actually helping to keep the surface soil in place. Groundwater pumping for urban water supply and for irrigation can produce new sinkholes in sinkhole-prone areas. If pumping results in a lowering of groundwater levels, then underground structural failure, and thus, sinkholes, can occur. This video shows the moment the condo collapsed from another building's security cameras.
What Part of Florida Has the Most Sinkholes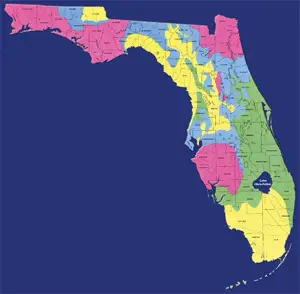 Florida has no real bedrock underground, except for the far northern panhandle. The state is really one big limestone reef with sand over it. The major determiner of future sinkholes is going to be the thickness of the sand above that limestone.  Population density compounds that because groundwater helps hold up the ground, and the more groundwater that gets pumped out of the ground to the service the population above out the more likely there will be sinkhole activity. 
Sinkholes can form anywhere in Florida, but the highest activity level occurs in west-central Florida because of the Karst limestone environment. There are several influences that increase the risk of sinkhole activity such as long-term weather conditions, heavy acidic rains, and drought-like conditions.
Zone 1 (Yellow): This region consists of exposed or thinly-covered carbonate rocks. Broad and shallow sinkholes are common in this area. Cities in the zone 1 region include Miami, Coral Springs, Hialeah, and Hollywood.
Zone 2 (Green): This region has permeable sand that varies in thickness from 20 to 200 feet. It mainly consists of small cover subsidence. Zone 2 cities include Fort Lauderdale, Port St. Lucie, and Orlando.
Zone 3 (Blue): Zone 3 has cohesive, low-permeable soil that forms abrupt collapse sinkholes. Cities in zone 3 include Tampa, Tallahassee, and St. Petersburg.
Zone 4 (Pink): This region consists of deeply inter-bedded carbonate rocks and cohesive clayey sands. Sinkholes are uncommon in this region, but collapse and small subsidence sinkholes can occur in shallow beds. Cities located in zone 4 include Jacksonville and St. Augustine.
How Deep are Sinkholes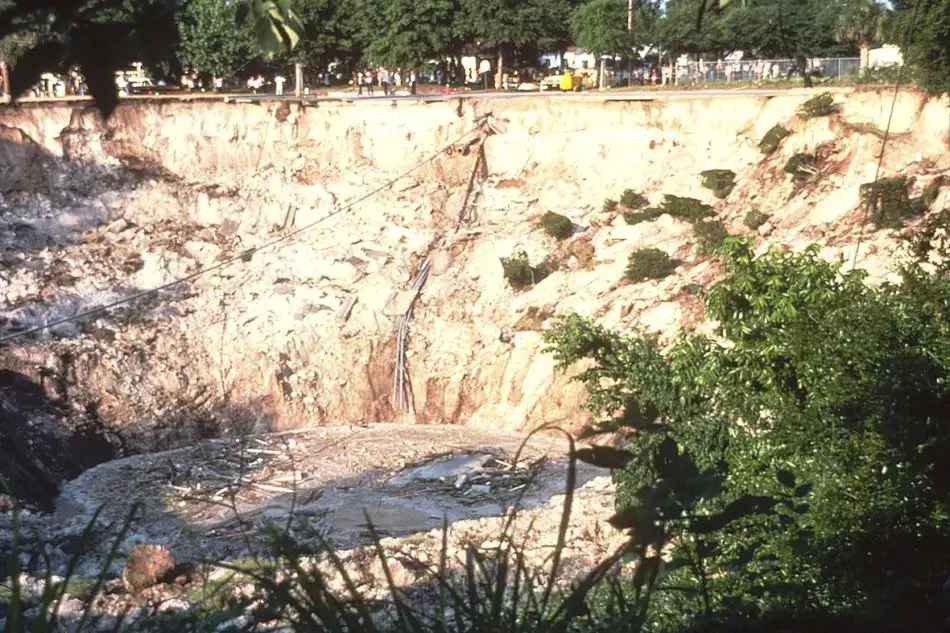 A sinkhole can vary from a few feet to hundreds of acres and from less than 1 to more than 100 feet deep. Some are shaped like shallow bowls or saucers whereas others have vertical walls; some hold water and form natural ponds.
The deepest Sinkhole is claimed by Chinese researchers who have confirmed the world's deepest underwater sinkhole, or blue hole lies at a site in the Xisha Islands in the South China Sea. The blue hole was found to just over 300 meters deep, easily surpassing the previous record of 202 meters, the researchers confirmed on Friday.
The deepest Sinkhole in Florida is in Winter Park, Florida. Appeared 8 May 1981. It was approximately 350 ft (110 m) wide and 75 ft (23 m) deep. It was notable as one of the largest recent sinkholes to form in the United States.
Most sinkholes are so small they go unnoticed and develop over long periods of time but when they happen they happen fast and create a dramatic result especially if there is a populated community on top that is affected by the event. Like the one in Surfside Florida that took the condo and killed so many people.
Florida Sinkhole Map
There are Sinkhole Databases for the United States, Worldwide, or for specific areas counties, and states like Florida. They are only one of many kinds of karst landforms, which
include caves, disappearing streams, springs, and underground drainage systems, all of which occur in Florida and various other states and countries in the world.
Karst is a generic term that refers to the characteristic terrain produced by erosional processes associated with the chemical weathering and dissolution of limestone or dolomite, the two most common carbonate rocks in Florida. The dissolution of carbonate rocks begins when they are exposed to acidic water.
Not all incident reports on the maps are actual Sinkholes but are reported to the Database by residents as suspect sinkholes, marked for inspection and assessment normally this is a firm of professional geologists or geotechnical engineers. People buying properties should be aware of any suspected areas that are listed by law.
Florida law requires insurance companies to inspect the premises to determine if there has been structural damage that may be the result of sinkhole activity. If the insurer discovers structural damage which is consistent with a sinkhole loss, or if the insurer is unable to identify a valid cause of such damage, the insurer must engage a professional engineer or geologist to conduct testing to determine the cause of loss within a reasonable professional probability. The professional engineer or geologist will provide a report of their findings to the insured.
Sinkhole Alley Florida
 Florida's Sinkhole Alley is considered by Floridians to be the worst for sinkholes. The county's area is primarily made up of Pasco and Hernando counties the leading counties in reported sinkholes. Spring Hill, located in Hernando County, made national news in 2014 when a sinkhole swallowed up a neighborhood street. That sinkhole grew to 125 feet wide and forced four homes to be evacuated.
Just the year before, a 2013 sinkhole claimed the life of Jeff Bush when it opened under his bedroom. The county purchased that property as well as the home next to it to make sure no other residents were in danger.  Not all sinkholes are as devastating, but the area known as sinkhole alley generates two-thirds of the sinkhole claims in the state. Still, most sinkholes are not catastrophic or life-threatening and some aren't even reported.
The middle and western counties of Florida are some of the most likely areas of the state to experience sinkholes.  That's due to Florida's geology. The peninsula is made up of a Karst terrain and carbonate rock which can dissolve over time with water heavy rains, drought, and manmade activities such as excavations, pumping, and drilling as the population of the area grows and developed.
Man-made development, it turns out, is the most persistent factor for increased sinkholes. Earth-moving equipment scrapes away protective layers of soil; parking lots and paved roads divert rainwater to new infiltration points; the weight of new buildings presses down on weak spots; buried infrastructure can lead to leaking pipes; and, perhaps most of all, the pumping of groundwater disrupts the delicate water table that keeps the karst stable. "Our preliminary research indicates that the risk of sinkholes is 11 times greater in developed areas than undeveloped ones," says George Veni, the executive director of the National Cave and Karst Research Institute who conducted a field study in Sinkhole Alley.
There is positive news from the Florida Department of Environmental Protection is working with NASA on technology that could monitor changes in the state's terrain and hopefully predict sinkhole areas in Florida before the damage is done.
For more information on Sinkholes check out my recent article on MyWaterEarth&Sky called Where Do Sinkholes Occur? 
 JimGalloway Author/Editor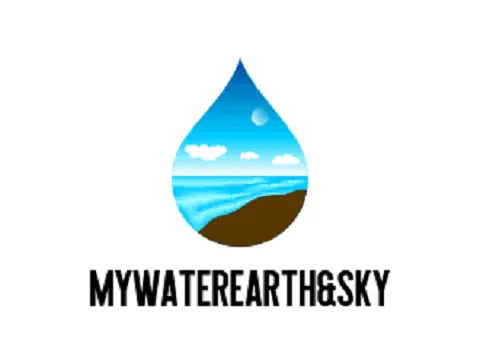 References: New York Times- Possible Failure Point Emerges in Miami area Building Collapse
Foundation Professionals of Florida-Florida's Sinkholes