Traveling on land and Cruising on the sea are part of vacationing and retirement living these days. One new popular way of retiring is the long-term Cruise vacations on huge Ships that are self-sufficient and comparable in price to Retirement Villages or Assisted Living Facilities. What is the Cost of Retirement Living on a Cruise Ship?
You can retire & live on a Cruise ship in comfort for long periods of time, cheaper than a Retirement Village or Assisted Living Facility with better amenities for a happier retirement by buying or renting apartments/condos even stringing shorter cruises together for long trips that last for years.
The world could really be seen from your living room and for cheaper than you think. The dream of cruising could become your reality.
What Does It Cost To Live On A Cruise Ship
The Storyline itinerary is set only from point to point every 2 weeks to allow for the provisioning and safe running of the vessel. All other ports and locations in between those dates are voted on by you, as a cabin-condo owner, via their app. This innovative approach allows the onboard community to choose destinations just a few days in advance.
All the necessities of daily life are provided for you and included in your fee. Meals, drinks, housekeeping services, access to all facilities, and even onboard medical staff are included. So the little bit of freedom that you might give up is for the ship to keep moving. It must be crazy expensive right?
The storyline is the very first affordable Cruise Line that will give you not only a chance to own an affordable condominium but you will own a piece of the ship along with it.
Storyline Cruise Ship brags Beautiful Views, Ocean Breezes, Exotic Destinations, Fabulous Food and Stellar Entertainment; all while enjoying the comforts of home amid a community of fellow travelers—living the life most only read and dream about.
Everything that you can imagine or your finest Cruise you can experience forever as long as you living onboard. You can see there is a living Home at Sea Assessment that is added to the experience of being aboard just like if you were on a ship for a vacation.
Condos here on the ship start at Location: Decks 4, 5 & 6
Total Square Feet: 172
Price from: $352,235
Settlement: Late Summer 2020
Home at Sea Assessment: $70 per person/per day*
Location: Decks 11, 12 & 14
Total Square Feet: 1259 up to 1690
Price from: $3,283,459
Settlement: Late Summer 2020
Home at Sea Assessment: $205 per person/per day*
Another Ship owned by Storyline is called Named My Home At Sea, this signature ownership and travel experience is offering cabin/condos aboard a cruise ship that travels the world.
The 24,000 gross-ton cruise ship is bringing the beauty of classic ocean travel into the 21st century. The vessel will offer 450 cabins broken into five tiers that will range from $155,000 to $1.4 million. The ship will first set sail in August 2019 after receiving a $40 million renovation. Their Tier 1 to 5 start at 155,000 to 1.4 million
Tier 1 ($155,000 – $400,000) – The most affordable cabin condos make excellent use of space without sacrificing comfort, and exterior options are available that add natural light to the space. Area: 183 sq. ft. – 248 sq. ft. Monthly service fee: Starting at $4770 per person (per cabin, based on double occupancy)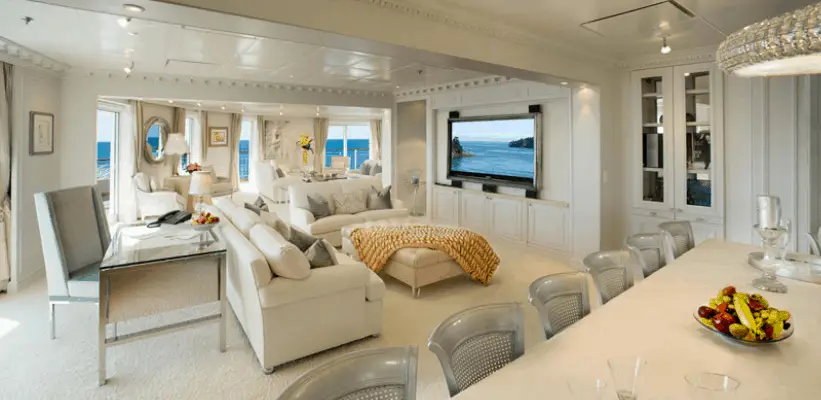 Tier 5 ($990,000 – $1,400,000) – The most spacious and exclusive offerings, these expansive exterior cabin-condo suites allow for maximum privacy and luxury, with living/dining areas separate from the sleeping quarters. There's a two-deck duplex layout with a study, main-level living/dining area and upstairs bedroom, and a large single-deck suite with a private terrace. Area: 570 sq. ft. – 624 sq. ft. Monthly service fee: Starting at $9533 per person (per cabin, based on double occupancy)
Storylines' goal is to build a fleet of affordable cruise ships and thriving communities that they call "My Home At Sea". Their first ship will launch in 2019 with a second cruise ship to follow soon after. For more information on these affordable residences at sea, you can visit their website at Storylines.com.
The World Residence At Sea is another prime offer for Sea Lovers or retirement if you got some more bucks to spend. They offer a Studio and 1-2 and 3 Bedrooms Residence. They offer what they call the Ultimate lifestyle on the biggest the World, the largest private residential ship on the planet at 644 feet.  Their launch in 2002, The World has continuously circumnavigated the globe, spending extensive time in the most exotic and well-traveled ports, allowing Residents to wake up in a new destination every few days, exploring with depth they had never before thought possible. It is a lifestyle they are truly grateful to live each day. With Golf Centers, a 650 square meter Spa and the only ship in the world with its own Tennis Court. Apartments here on this Ship range from 3 million- 10 million dollars. Residents for the The World need a net worth of 10 million to stay here. The apartments are sold by invitation only. 
Cruise Ship Cost Per Person
Cruise Lines have been catering to the Baby Boomers for a while and see a new type of senior that opens a market for the new active elderly or soon-to-be elderly that don't want to sit home and are more adventurous than previous generations that came here.
Crystal Cruises is about to launch Residences at Sea. Building customizable floating apartments that are as big as 4000 square feet. Oceanic Cruises says that they intentionally build and decorate their apartment to look like home. The company just launched 2 new Iteninarys specifically targeted for retirees in mind. They run all-inclusive trips and at $240.00 dollars a day plus Seniors discounts are available. Princess Cruises average 135 dollars a day when you factor in the long-term and senior discounts.
If you put those costs against Private Assisted Living which in the US is roughly $229.00 dollars per/day for a private room in a Nursing Home.

If you can try to imagine what the Cruise Ships offer compared to the Private Assisted Facility, there is just no comparison between the two. Cruise Ships have round-the-clock Casinos and Spas, Jacuzzis 24-hour daily meal service.  There are just too many options at sea.
Part of the appeal of retires taking Cruises is the fact that so much is taken care of for them. They are wined and dined and treated special which counts a lot for not wanting to live in a Retirement Community.
There is a family on board mentality and the ship's staff treat seniors as special passengers. The staff creates a Senior Adoption whether they are told to do it or not it's a great incentive for bringing people back for another trip.
Cruise Ships with long-term passengers and with senior discounts can come close to $150.00 per/day. Seniors get free toothpaste shampoos, soaps, and razors. You can get a lot for what you are paying for. Your rooms are made up for you, it's a great existence. They have discounts of up to 50% for couples who don't use alcohol, opt-out to going to the shore, or give points for frequent cruising.
Not all Cruise Ships allow full-time residents to live on board but make accommodations for seniors. In Reward programs for long-term passengers who end up staying on board for months or years at a time and staying loyal to the cruise lines. There are also options like Oceania's Around the World Voyage, which is a 180-day cruise happening annually from January to July.
If you are a senior and know what to do or have a good travel agent you can book trips for 6 months at a time. Leaving and arriving from the same port. coming in once a year every 6 months and heading back out to sea again.
Besides the normal Senior rates that discount the tickets, there are all kinds of ways to lower the price of cruise fares. Some by booking early like this way of booking 6 months in advance.
Medicare Supplement Foreign Travel
Medicare pays for covered services provided on cruise ships if those services are obtained within six hours of a U.S. port,
One of the biggest considerations you'll need to make involves healthcare. Medicare doesn't cover healthcare expenses outside the U.S., although there are some exceptions if you need medical care aboard a ship.
For example, you may be covered by Medicare if you incur medically necessary expenses while in territorial waters adjacent to the U.S. However, if you're more than six hours away from the nearest U.S. port, Medicare won't cover you.
You do have other options, such as a Medigap Plan or Travel insurance, but it's important to do your research and talk to an insurance provider to make sure you're choosing the right plan for your situation.
If you go without insurance, you could face some hefty medical bills in the event of an illness or accident. This is especially important as you age because although they may be more affordable than nursing homes or assisted living facilities, cruise ships aren't equipped to provide specialized care.
Seniors could also choose to purchase travel insurance to cover both the costs of treatment aboard the ship and more costly services, such as helicopter transport to a U.S. hospital in case of a serious medical emergency.
Most people of retirement age, are somewhat healthy and are not restricted to health conditions. Most people like me (I'm 63) are still active but are teetering on retirement.
I'm looking at travel trailers for retirement with my wife. Maybe 6 months a year. We hate being restricted and want to stay healthy and vibrant. Staying on a Cruise Ship could be a possibility at least living on board for 6 months at a time. What happens if one of us gets sick? What then?
In a Travel Trailor all around the country, we can go to out-of-state Hospitals and be treated but What happens if you're on a Cruise Ship in other parts of the world? What Then?
If you're more than 6 hours away from a U.S. port, your Medicare coverage wouldn't kick in. You could maintain a private health insurance policy as a supplement, but you'd need to read the fine print. Make sure your coverage includes any treatment that a cruise ship's physician may offer.
One solution is to purchase cruise travel medical insurance. This can help you manage these types of costs if they become necessary. According to online travel insurance company Squaremouth, this coverage typically costs around 5 to 7 percent of the trip cost when purchased through a third-party insurer. Cruise lines can also offer their own travel insurance, which includes emergency medical coverage.
Something else to keep in mind is the quality of care you could receive on a cruise ship. Ships are required to maintain medical staff on-call 24/7, including at least one physician. That's reassuring for emergencies but if you have a non-life-threatening condition that requires specialized treatment, that may be more difficult to come by on the ship.
What Cruise Lines Offer the Best Perks Program
Living on a Cruise Ship for Retirement or for long voyages is not for everyone. There is definitely the need for some consideration. The truth is it can be done for less money than living in a Retirement Community or an Assisted Living Home. You can take advantage of Rewards and Perks by using the same Cruise Line.
You can save lots of money by giving things up like alcohol, Show tickets, or Land Excursions. Everthing is of value on the ship. Everthing of value can be bartered. You can get real good saving money if you are smart and prepared.
There are many ways that you can save hundreds or even thousands of dollars if you cruise frequently and on the same Cruise Ship. The number #1 piece of advice that I heard through these tips and recommendations was from Florida Maritime Lawyer Michael Winkleman.
Maritime Attorney Michael Winkleman" the most important thing a Cruise Passenger can do is to buy Travel  Insurance Its a small price to pay for piece of mind". "Whenever an imergency on ship is involved for big bills or travel expenses it will be there. Its there to help you so get it"
Cruise experts say while costs vary widely, it's reasonable to figure on average $100 a day to cruise including lodging, transportation from port to port, food, and entertainment. Think $3,000 a month total, which isn't too bad considering a lot of people pay larger mortgages or rent. A senior could live on about 50-75 dollars a day with discounts.
Most Cruises are 1-3 weeks long and the farther back you book the cheaper you can get them. These cruises can be strung together with all types of advantages. Again if you know what you're doing or you have a good Travel Agent. Longer cruises are becoming popular like 130 plus nights Cruises which fill up fast. Cruise Ships know there is a huge interest in Living on Cruise Ships for the Baby-Boomers who are the next generation of retirees not to be sitting around on the rocker as their folks did. Not that there is anything wrong with that.
Not only retirees but younger people have a real interest in renting or buying apartments or condos located on Cruise Ships that travel the world. The new real estate is on Water that moves. You can go to bed in one part of the world and wake up in another. How cool is that!
JimGalloway Author/Editor