If you're from the New Jersey area then you know how delicious Blue Crab is that's found all along Bays, tidal Creeks, and Rivers in the Jersey shore communities. They are abundant and easy to catch as long as you go at the right time and are using the right bait and equipment. They're fun to catch-their great to eat it's that time again. When is the New Jersey Blue Crab Season?
Season-Mar. 15th-Nov.30
Best Time-4:30-8:30 am
Gear- bait line with a 6 oz sinker & an 8/0 hook connected to a 15-20 ft. cord or
Use a Crab Pot (a cubical wire trap) with 2 or 4 entrance funnels
Bait- bunker, chicken necks
Location- small boat, piers, docks,
Size over 4.5 in.
License-2-$10.00Limit-1 Bushel
Of all the marine life and shellfish on the New Jersey coast, the Blue Crab is the most sought-after. If you tasted them then you know why. This Blue Crab I laid out on my bulkhead in the lead picture was mine and considered a nice size.
Blue Crab Facts
If you ask a Scientist, the Blue Crab is a Callinectes sapidus (kal i nek' tes sap' i dus). The literal translation of this Latin name is the beautiful calli-swimmer (nectes) that is savory-(sapidus). The Blue Crab certainly lives up to its name with brilliant blends of olive-green, blue, and red, the ability to dart swiftly through the water, and a body of delicate white meat.
Blue crabs require both inshore brackish waters and high salinity ocean waters to complete their life cycle. They range from Massachusetts to Texas, and occasionally north to Nova Scotia and south to Uruguay.
On the Jersey Shore, they are a staple and very popular. Large males, called Jimmies by fishermen, have brilliant blue claws and legs. The mature females, or "sooks," have bright orange tips on their claws. A Peeler Crab A crab that is about to molt (lose its exoskeleton). Fishermen catch peeler crabs, hold them until they molt, and then refrigerate them for sale as soft-shell crabs
Males can reach 8-10 inches across the shell from point to point. Blue crabs have five pairs of legs. They can walk as well as swim. Three pairs of thin walking legs propel blue crabs sideways, as they clear a path with their sharp lateral spines.
Blue crabs swim by sculling the oar-like fifth pair of legs, the swimming legs. These paddles usually rotate at 20 to 40 revolutions per minute, but they quickly disappear into a blur as the animal darts away.
Crabs have large, powerful claws that are used for gathering food and defense, digging along with sexual displays. Blue crabs can inflict severe injury if not handled properly.
Male Blue Claw Crab on the Left-Female Blue Claw Crab on the Right. It's very important to know in New Jersey!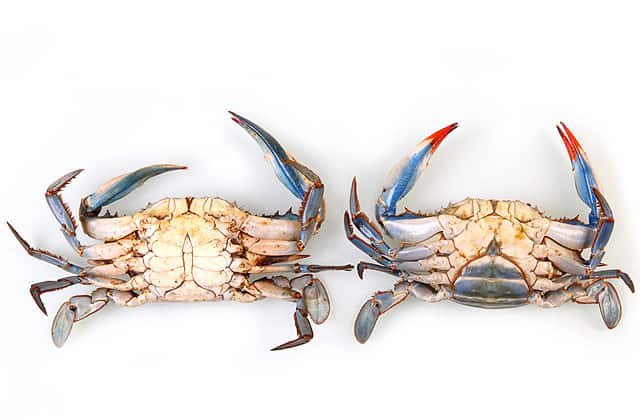 Crabbing Equipment
A big part of Jersey shore recreational activities revolves around the Blue Crab, especially in the Bay areas of Jersey where these guys are abundant and part of the seafood menu and fishing that literally happens in residents' backyards.
It's not needed to travel far out into the Bays to find a huge amount. They wash up in the tides right up to your Bulkheads, Bridges, and Docks. Small boats with low Horse Power putter up into shallow waters can bring in large hauls enough for the family's vacation dinner that night.
You can use baited lines or traps that are all sold locally in Bait & Tackle Shops. The kids can fish from the side of a bank or a small Crab Boat that is available to rent for a day and half-day. The most common baits are bunker and chicken necks, but any fresh fish will work well. Other recreational crabbing gear includes drop nets and dip nets.
Drop nets and collapsible traps, usually baited with herring, can be fished from docks and bridges
Most people that are fishing will save the scraps left over from a fish and use that for bait. Blue Crabs is not that particular. Crabbers typically bait their pots with oily fish to attract the crabs that detect the odor being released. Blue crabs can follow a current upstream by crisscrossing the stream bed.
An inexpensive bait line can be made by tying a 6 oz. sinker and a large (8/0) hook to one end of 15 to 20 feet of cord. A short stick is tied to the other end and used to link the crab pot, which is a cubical wire trap with two or four entrance funnels. Secure the bait line on the bank or pier/bulkhead.
When a crab is felt tugging on the bait, retrieve the line slowly and steadily until the feeding crab is close enough to be scooped up with a long-handled dip net. Don't lift the crab out of the water with the line.
The Crab Pot has two chambers: a lower chamber with entrance funnels and the baitwell, and an upper chamber separated by a wire partition with two holes. Blue crabs react to confinement by swimming upward, moving them into the upper chamber, thereby reducing their chances of escape.
A favorite way from where I'm from is to use a Crab Pot with Chicken Necks and tie the cage off on your pier or bulkhead and just let it sit for a while. Crabbers use multiple Bait Lines and Crab Pots. You can find all your crabbing gear right here KUFA 2-Pack Vinyl Coated Crab Trap with Crabbing Accessory Kit–(S70+CAM3) X2
Or how about the Crabbing Boat like this guy- SunDolphin American 12 Jon Fishing Boat (Beige/Green, 12-Feet)
When waters are calmer then a crabber can wade the shallow waters and use a scoop to collect Crabs from the marsh areas and round bulkheads and pilings. In any event, keep the crabs that are caught wet and out of direct sunlight. Here are some other tips for your NJ Blue Crab experience:
Don't keep Crabs in a bucket of water they will use all the dissolved oxygen in the water and die.
store them in a bushel basket with a lid and keep them in a cool place.
Keep out of the sun
Should a crab get a hold of a finger, it is usually best not to pull it off. First, try letting it hang; many times the crab will release and drop. If the crab will not release, use the free hand to immobilize the other claw and slowly bend the offending claw backward until the crab releases it.
Don't use plastic bags, they will kill the Crabs
Ice them in a cooler in order to transport them.
Before cooking, rinse crabs in freshwater, making sure they are all alive. If a crab's legs and claws hang limp and show no signs of movement it is probably dead and should be discarded.
Do not rinse the picked meat for this will remove much of its delicate flavor.
New Jersey Crab season runs from March 15 to November 30th in all New Jersey waterways. The best time to go Crabbing is between 4:30 am to 8:30 am when the Crabs are most active. The best time of the season to harvest large, heavy crabs is normally from October to December.
Mature females are typically near the ocean, but large males are mostly in the rivers and creeks.  Males and females are easily identifiable which is important because of State regulations.
Throwback any female crabs or any hard-shell blue crabs less than 4.5 inches long from point to point. Your iPhone is approximately 4.5 inches long. Female crabs have a V-shaped apron on their belly while males have a T-shaped apron on their underbelly along with blue claws.
Since January 1, 1998, all commercial-style crab pots must be constructed to include a biodegradable panel designed to create an opening to allow crabs and other organisms to escape if the pot is lost or abandoned.
Also, effective January 1, 1998, all commercial-style crab pots set in any man-made lagoon or any water body less than 150 feet wide must include a turtle excluder device inside all pot entrance funnels. Specific information may be obtained upon application for a license, or by contacting the Bureau of Marine Fisheries at 609-748-2020.
Crabbing Spots in New Jersey
Just a few places to catch Blue-Claw Crabs in New Jersey. Having lived in Little Egg Harbor I've found the best places to catch crab are right off the side of the road where there is no fee and no boat rental. The best way to find the back-bay best spots for crab is to look where other people are crabbing.
The Blue Crab on the feature picture of this post is a crab I caught on the dock at the back of my home on Mystic Island in Little Egg Harbor. They are all over the backwater in New Jersey so you don't have to go far. Bait your trap and let the tide do the work!
Bass River Bridge Area
Barnegat Bay in Seaside Heights (Dock Outfitters has a nice fishing pier with a food concession stand)
Windward Beach in Brick
Good Luck Point in Bayville
Somers Point (Patcong Creek, Great Egg Harbor River, Great Egg Harbor Bay, Mays Landing Road), Egg Harbor Township in Atlantic County
Great Bay Blvd on Seven Bridges Road in Little Egg Harbor
Rt 539 & Green Street, Tuckerton (at the end of the road)
Grassy Sound Marina Wildwood (charges a small admission fee)
Creek Boat Rentals in Dividing Creek has crab boat rentals
How to Catch Blue Crabs
According to New Jersey Statistics, more than 19 million crabs are caught in any given year. NJ residents account for 77 % of the Crab's participation with other states like Pennsylvania, New York, and Delaware. Crabs can be caught all year, but become inactive, and therefore more difficult to catch in winter when water temperature falls below 50-55 degrees.
Around 47% of Crabbing is done by Boat and over 53% is done from shore and piers. The average catch per trip is 15.5 Crabs per resident. The peak recreational season for Crabbing is done in July-August in the summer. The average size of a Blue Crab from New Jersey is 5.2 inches but the big guys come out from October- to December when the water is still warm.
If you use a crab trap where the doors remain open and only close when you lift the strap you do not need a crabbing license in New Jersey. If you use a recreational hand line you also do not need a license.
Traps that don't need to be monitored are officially considered Crab Pots and can sit unattended in the water for hours. Crabs are able to enter the crab pot but once they are in they cannot get out. You need a crabbing license to use a crab pot in New Jersey. That's the difference. You can purchase one for NJ cheap online at the NJDEP Division of Fish & Wildlife.
Living on the Bay in New Jersey in a lagoon section, meant that I had a bulkhead which also meant that I had access to plenty of Blue Crab from the lagoon.
Once you get the hang of catching these guys you'll have your traps always tied off and ready to go. It's part of life in Jersey and other states along the coast. Bring your kids and make a day of it-It's lots of fun!
By the way that's mine on my floating dock that we trapped for dinner nice size for a Jersey Blue Crab!
JimGalloway Author/Editor