This filter is the highest of quality & comes highly recommended by MyWaterEarth& Sky offered through Amazon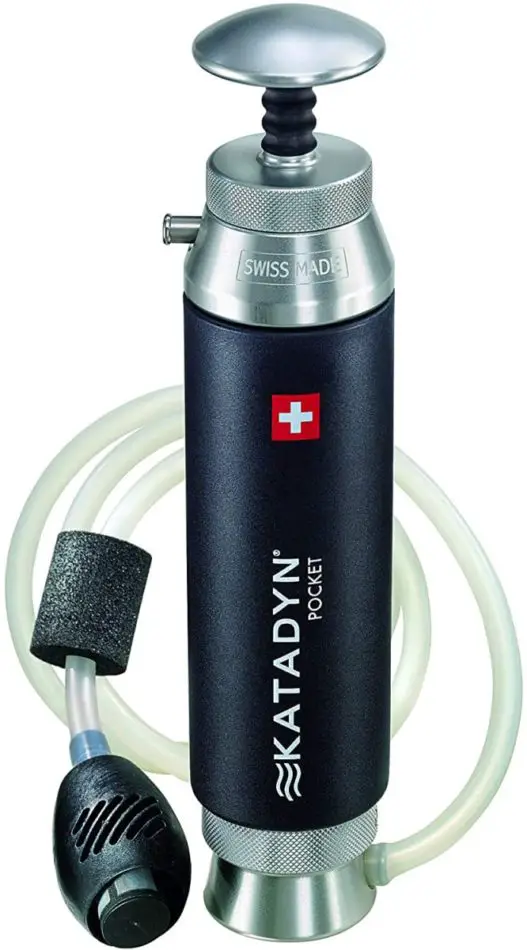 Katadyn Pocket Water Filter, Long Lasting for Personal or Small Group Camping, Backpacking or Emergency Preparedness
Pocket water filter designed for outdoor enthusiasts and international travelers
Filter's silver-impregnated ceramic element is effective against bacteria and protozoa
Filters all microorganisms larger than 0.2 microns to produce clean, drinkable water
Round pump handle for easy pumping; outlet hose attaches to containers with clip
Water treatment products are in high demand for outdoor enthusiasts, international travelers, and relief agencies. Few are better for long-lasting continuous use, however than the Katadyn Pocket water microfilter. Made of heavy-duty materials, the Pocket features a silver-impregnated ceramic element that's effective against bacteria and protozoa even in extreme conditions. Unlike disposable filters, the ceramic element can be cleaned several times, even in the field.
More importantly, the element filters all microorganisms larger than 0.2 microns (0.0002mm), producing clear, drinkable water no matter where in the world you are. The pump also includes an improved, round pump handle for better ergonomics and an outlet hose that attaches to water containers with a single clip.
The Pocket hails from Katadyn's Endurance series, a high-quality line of filters that produce up to 100 times more water than standard water filters. The Pocket is so tough, in fact, that it's the first choice for extreme adventurers like Mike Horn. Plus, it's the only water filter with a 20-year warranty. Other features include a measuring gauge that indicates when you should change the filtering element, a cushioned base that makes it easy to pump on all surfaces, a prefilter, and a carrying bag.
"I have these products and would highly recommend them"  JimGalloway Author/Editor of MyWaterEarth&Sky
Dolphin Nautilus Pool Vacumn
Dolphin Nautilus CC Plus Automatic Robotic Pool Cleaner with Easy To Clean Large Top Load Filter Cartridges and Tangle-Free Swivel Cord, Ideal for In-Ground Swimming Pools Up To 50 Feet
Dolphin Nautilus CC Plus Automatic Robotic Pool Cleaner with Easy To Clean Large Top Load Filter Cartridges and Tangle-Free Swivel Cord, Ideal for In-
Ground Swimming Pools Up To 50 Feet. This Vacumn by Dolphin is simply the Best! Nautilus CC Plus is perfect for all pool types. From gunite to tile, and everything in between; you name it and Dolphin will clean it.
If you own a big Inground or even an Above Ground Pool then you'll want to take a serious look at this advanced Vacumning tool from Dolphin. If you are like me and take pride in your pool and how it looks but you don't want to spend your Saturday cleaning the bottom and sides. Take the next level! This is your next Pool Tool! Get It!
 Let the Nautilus CC Plus take over your pool cleaning duties for good. Ideal for swimming pools up to 50 feet, this cleaner will leave your pool sparkling clean in just 2 hours. Spend more time enjoying your pool and less time cleaning it.
Effortless Cleaning
Tangle-free cable allows the Nautilus CC Plus to move freely around the pool with ease. The clean you need without the hassle. The Nautilus CC Plus was designed to clean your pool, effortlessly. With dual scrubbing brushes and superior filtering capabilities, you can relax knowing your pool's floor and walls are left exceptionally clean.
The water is pulled through the bottom as it vacuums. The debris and water are filtered through 4 sizable filters. The resulting filtered water is then expelled through the top of the device. It has great traction and works well. I bought one and don't regret it.
This Pool Vacumn is a bulldog and cleans dirt, dead algae, and leaves from your pool in one round. If the whole bottom is covered in leaves, you need to use a leaf basket then finish off with the Dolphin. This device saves me from vacuuming all weekend by hand for half the day. Also, the dirt, dead algae, and general crud don't go through your pool filter. It's worth the price completely removes it all without the risk of it going right back in and it doesn't stir up the bottom and settle back down after you vacuum. Check with Amazon for updated Prices
Berkey Water Filters
If you are interested in Water-Clean Water for your family and in an uncertain future, then take a look at the most popular Water Filter in the world in this price range. There is a reason for this. It's because of the Filters that Berkey uses in a Gravity-type Filtration that doesn't need any power to perform. I have other water filters including portable outdoor filters that use Carbon & Micro Filtration but the Berkey is the one that I depend on the most! That is why I am proud to be an owner and an Authorized Dealer for Berkey Products. Click on here and find out why! Don't wait too long the word is getting out so order now!