In today's world, most people are starting to understand the importance of emergency preparedness or the danger of drinking contaminated water hiking, or camping in the outdoors. One of the best portable filters that's recognized around the world is the Portable Kayadyn Water Filter. Less costly UF Water Filters like Renogy Tactical are now making it easier to own one. How good is the Renogy Tactical compared to the Katadyn Pocket Water Filter?
Katadyn Pocket Filter
More Capacity 
A Sediment Filter
Processed Output
Uses a Silver coated media 
A Cleanable Filter
Renogy Tactical Microfilter:
Price 100's of dollars cheaper
Renogy uses a 0.1 Micron size which is the smallest used today
Inexpensive Filter Replacement $10.00
Durable Aluminum Construction
Most larger filtration systems basically do the same thing but some can do it longer or faster. You should weigh those factors out before buying a Microfilter. Is it for Emergencies, traveling, Camping outdoors, or all the above? The Renogy Tactical Microfilter, in my opinion, outperforms one of the best Portable Microfilters made by Katadyn that is in the same classification. Here's Why;
 Renogy Tactical Water Filter
This Tactical Water Microfilter ideal for emergencies and outdoor use. It's an excellent tool for world travelers and campers who can have instant access to clean drinkable water. The Microfilter works by the use of a hollow fiber UF membrane. The membrane filters up to 99.9999% of protozoan cysts such as Giardia and Cryptosporidium. The activated carbon filter should remove organic pollutants that can be found in streams and creeks along with odor not to mention the Renogy improves the taste of source water so that the taste is pleasant to consume.
The Renogy Tactical Filter's UF membrane is easy to operate and can process up to 3000 liters and with normal usage can last up to a year. The manufacturer recommends that the user tries to use clear and clean water because the sediment and particles found in the outside environment can affect the filter's ability to function and it won't last as long. It won't filter seawater and needs to be flushed after usage.
The Renogy Tactical Microfilter can deliver processed water at a typical rate of 600 ml/per minute in temperatures of 32- 113 degrees. It weighs about a half-pound and stands around 8 inches tall. It's made from Military grade Aluminum PCTG is BPA-free and comes with silica gel to use as a lubricant for the piston on the filter. Here is the Best part. The Renogy Tactical Water Microfilter can filter down to 0.1 Micron size that is of the highest level that is recommended by the EPA and even surpassing critical levels for portable water filtration.
You can drink water directly from the source on the move or fill bottles and containers for later supplies. If your hiking or cycling the Renogy is a light-practical tool that can be stored away in your backpack easily. For emergencies, preparedness can be stored away or packed in your luggage for world travel as needed insurance against unseen enemies that invisible. In today's world, nothing made more sense than to protect you and your family from new and older types of organic and inorganic contaminants that can harm you. This is a small price of money and inconvenience for you to pay that can save you from trouble before it can happen.
What is Ultrafiltration
Ultrafiltration or (UF) is one membrane filtration process that serves as a barrier to separate harmful bacteria, viruses, and other contaminants from clean water. An ultrafiltration water system forces water through a 0.1-0.2  micron membrane.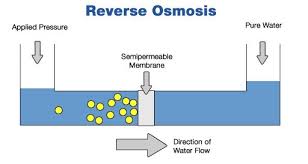 Suspended particles that are too large to pass through the membrane stick to the outer membrane surface. Only freshwater and dissolved minerals are able to pass through.
Many Ultrafiltration systems use a hollow fiber membrane, which filters water from the inside out.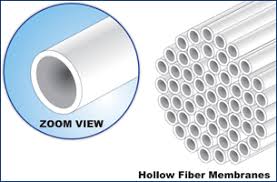 This provides a large surface area for particles to adhere to. Other membranes, like the spiral, wound RO Reverse Osmosis membrane, filter from the outside in. The hollow fiber membrane has a high chemical resistance to oxidants and chlorine, but a reverse osmosis membrane cannot tolerate any chlorine.
Differences Between a Katadyn Pocket & Renogy Tactical Water Filter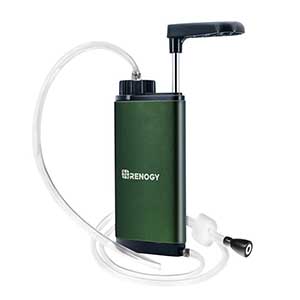 For a while now the field was narrow on Portable Water Filter Technology. With the onslaught of the Filter Straws that clean source water onsite from streams and lakes most small portables water filters do the same thing. They can remove contaminants like cysts and protozoa that are usually encountered in the outdoors. Renogy uses that technology for their models that are classified in the Portable Microfilter water filters.
The Renogy has the ability to keep its efficiency by a backflushing capability built into the filter. It's an easy process that will extend the life and overall workings that make this a great product especially at this price. Unlike Microfilters like the Katadyn Pocket Water Filter that employ a silver impregnated media over the ceramic filter which is the standard way of keeping bacteria from growing inside the filter because of Silver's natural ability to work as an anti-bacteria function. Katadyn Pocket Water Filters are considered to be one of the world's best.  This filter is available here through Amazon. So to compare the two you can see that the 2 are quite similar.
The Katadyn in the same classification with the Renogy Tactical look like this:
                 Katadyn Pocket Water Filter                                                            Renogy Tactical Microfilter 
The only water filter with a 20-year warranty                                                                       Only 1 year
0.2 micron ceramic depth filter (cleanable Filter}                                                    0.1 Micron Replaceable
Purify approximately one quart of water per minute                                              600 ml or 20 oz. per min.
Capacity: 13000 gallons                                                                                               Approx. 800 Gallons
Price  about  $370.00                                                                                                        about $50.00-$60.00
Sentiment filter  3 Stage                                                                                                       2 Stage-None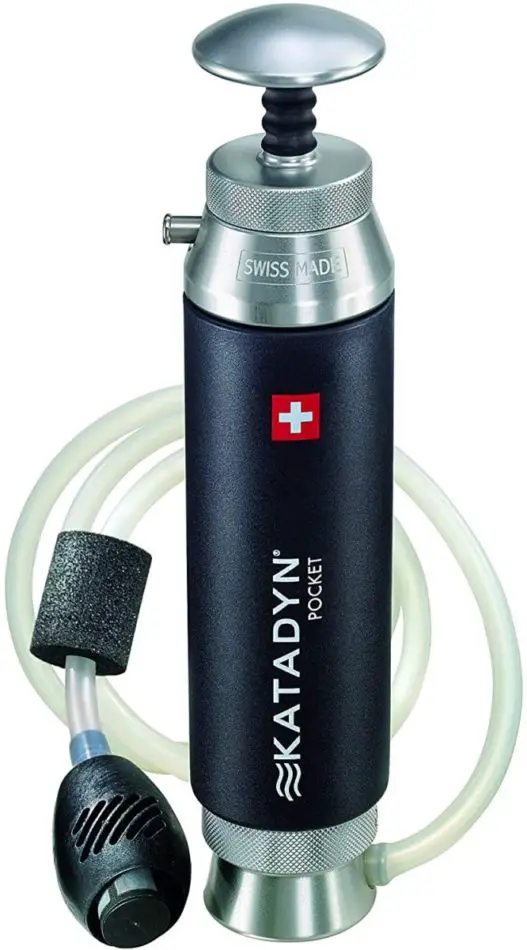 I really like the fact that the specs were compatible with the more expensive Katadyn in the same classification. The ease of operation and durable construction made the Renogy Tactical the choice I need to add to my survival items. The Microfilter fits really well in my backpack and doesn't bulk or protrude outwards, keeping things comfortable. I take this camping and have used this in the middle of the night because of the easy application.
I have tried using it with creek and lake water a couple of times using and had no bad experiences, so it seems like it works just fine. The tubing is plenty long so you can pump while standing up. With the head pressure on the pump being adequate enough to get a canteen full of processed water fairly fast and very clean.
Because the Renogy Tactical doesn't contain a Sediment filter separate from the UF filter, you just need to make sure to take water off the top of the source to keep the Microfilter from getting clogged up with this material. Maybe a small amount of extra work you to keep the filter healthy and performing properly.
The Portable Renogy Microfilter for fishing, hiking, and camping types of application and this category works really well and I'm very happy with the ease of operation and results that I had.
The Survivor Filter Pro X – Electric Camping Water Filter – Emergency Water Filter is available here through Amazon and it comes highly recommended. 
It took me a few minutes to figure out what goes where and get things going. It also took me a few minutes to figure out how to backflush the unit. You can see this live on the video. I didn't research the filter or look in any direction. I figured If I could operate the filter and get the unit flushed out without directions, it would be something I could use anywhere in an emergency situation.
Because of the much lower price and the smaller micron size filtering Membrane, the Renogy Tactical Microfilter for me was the better product and comes closer to what I need in a Portable UF Water Filter. I can sacrifice some volume and a Sediment Filter that doesn't come with Cheaper Renogy for smaller pores in the Membrane that will guarantee more removal of contaminates. That really the reason I bought a Microfilter in the first place.
How to Flush out a Renogy Tactical Microfilter 
Take the Filter Cap off
Remove Filter
Remove Carbon Filter from Base
Use clean water to  fill the back flusher device (looks like a Syringe)
blow the backflush clean water through the outlet on the top cap
Rinse clean the Carbon Filter and inside of the entire filter
shake excess water from the filter
sterilize with medicinal alcohol
By doing this simple procedure after you used it, you can add lifetime to the filter and the unit itself.  Try this Portable Filter if you are in the market for one! With Water Technology skyrocketing and RO (Reverse Osmosis and Microfilters using (UF) Ultrafiltration becoming the norm in all kinds of products linked to Portable Water Filters, the fairly new science gets a little complicated. Water Treatment Filters should be bought specifically for what you and your family need. Too big or too small means you just wasted money.
Because of the much lower price and the smaller micron size filtering Membrane, the Renogy Tactical Microfilter for me was the better product. It comes closer to what I need in a Portable UF Water Filter.
I can sacrifice some volume and a Sediment Filter that come with a Katadyn Pocket Filter but don't come with Cheaper Renogy, for smaller micron pores that the Membrane in Renogy has, that will guarantee more removal of contaminates. That's really the reason I bought a Microfilter in the first place. 
JimGalloway Editor/Author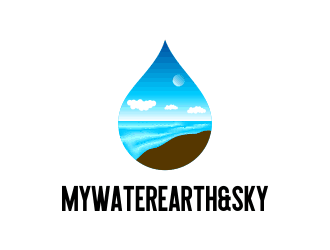 References:
Fresh Water Systems–What is Ultrafiltration? How an Ultrafiltration Membrane Works