Leaving your lure in the water because of using a cheap metal snap swivel with your brand new $20 dollar lure is a horrible feeling. Being able to change lures quickly is a great way to fish either  Saltwater or Fresh testing what works and doesn't.  There needs to be a decent well made a hard metal attachment that's made to quickly connect your favorite lures directly to your line that won't break or obstruct the movement of the Lure. This is it. What are the best Quick Change Lure Clips?
Tactical Angler Power Clip is the pinnacle in "paper clip" style lure clips. High-quality stainless steel in a "no-slip" quick-change design. Easy to use and provides maximum strength, dependable, & come in an assortment of sizes from 25 lbs.-150 lbs. Made for use in the harsh elements of the field.
I have been hearing about the Power Clips but they were hard to find in chain stores. This past Spring I went up the street to Dicks Sporting Good and they were plenty available. I settled on 125 lb. A clip that was recommended on a few forums on Saltwater tackle.
Tactical Angler Power Clips
There is a lot of noise about  Tactical Angler Power Clips and positive reviews they are getting from here on Youtube and other Fishing commercials so I decided to use them myself a few days ago on some Surf Fishing. I can you that my eyes are the same anymore as most 60-year-olds will tell along with some dexterity nothing serious just that Growin Old syndrome that most folks my age complain about.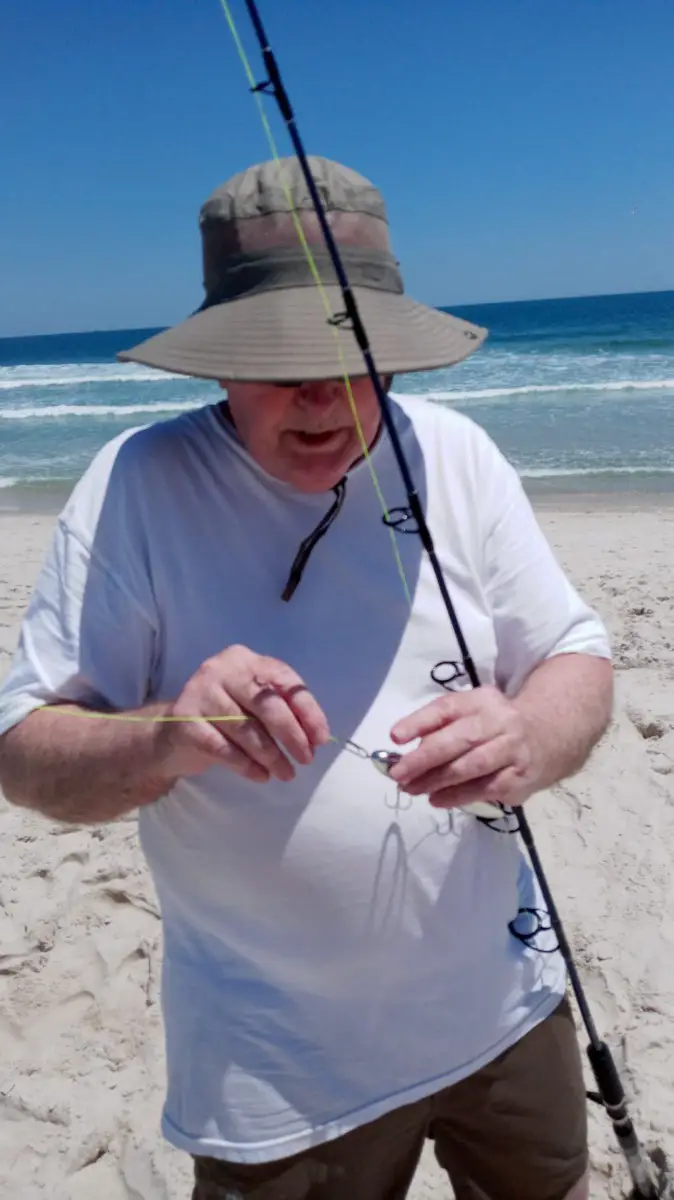 I was convinced at the ease and convenience that these Quick Change Lure Clips offered when it came to the speed of changing a lure. Still, when I saw them on a video they were younger guys using the Clips in their basement in a controlled area with no sun, heat, and wind. The elements in the field are where these little things matter and there is no better place to test them, than the harsh conditions of the beach with a nice wind in your face or even wind at your back.
I figured I just picked up a few lures and the Power Clips nows the time. Changing lures for me is a difficult process in the field and sometimes I won't even do it because of the hassle and time it takes up especially on Saltwater Surf where there could be an issue with light. Tide fishing comes at all times no matter what time day or night. So the simpler the better especially for older guys like me.
Of course, when a product works as well as this one does the Knock-offs will follow which won't be what the original product or sometimes they will at a lower price.  I tried both.  Heddon Tactical Anglers Power Clips were the better you could tell right from the get-go when trying to get the Lure on and off the Quick Change Clip.
People told me that the Power Clips were hard to find in chain stores but I went up the street to Dicks Sporting Good and they were very available. After reading a few Forum articles, I settled on a 125 lb Power Clip with my 8 ft rod. The same for my 11 ft. Surf rod that I wasn't working as hard and basically checking bait every 30 minutes or so.
That's me on Island Beach State Park switching over to a Super Spook Top Water Lure which is a difficult lure to handle anywhere not to mention that I was swapping lures out in the open at the water's edge. The stainless steel clip makes a big difference in quick changes. I expect I will even get a little better at it the more I use them.
Best Way to Attach Lures to Fishing Line
There are some different reasons to tie a lure directly to the line in both Fresh and Saltwater. If your jigging Bluefish from a Boat using a Diamond Jig the best way is to tie your line directly to the lure. This way it will help the lure move more life-like in the water. If you're using a lure that has a spinning movement in water then it won't make too much difference or it might help a lot.  You need to see how it moves through the water. It's been my experience that it's just a whole lot better to tie your line directly to the lure.
This is done mostly for touch or getting a better feel. After using the Tactical  Power Clip with its curved construction that looks like a paper clip, creates a smoother feel and an easier lure change. Make sure you change the clip or swivel, whatever metal is on the end of your line is removed after each trip.  You can use these clips instead of adding a swivel the Tactical Clip is made to allows the lure you choose to move naturally through the water smoothly and free with a motion you cannot get with a swivel.
The best part of it is how fast even if your older and suffer from arthritis like myself can swap lures without stop fishing. I found these Clips the easiest way to fish under the elements like wind and rain. If you are constantly fumbling with knots and string and want a more fluid action while you are fresh or saltwater fishing try these Tactical Quick Change Clips today!
How to Change Lures Quickly
With the new clips like the Tactical Angler Power Clips as you can see in the picture above, the curved bottom where the lure is attached has a rounded construction that provides plenty more action to a working lure. You won't lose that touch that Snap Swivels sometimes take away. So with a Spoons, Jigging or, Hooks, Spinnerbaits, Buzzbaits, where there is no spinning movement when you are bouncing off the bottom, most people I know tie off directly to the Lure.
You should use the versatile Clips with Crankbaits and Bucktails, Top Water Jerk Bait and, Poppers.  In Fresh or Saltwater Anglers can fish these using a variety of retrieves in both shallow and deep water. You have the advantage of quick changes with these Tactical Fishing Line Clips to work those lures. It is the Snap Swivels that are made so cheap you will eventually have problems with them breaking or bending. Try the Clips out and you will see how durable they are. Once you get the knack of switching your favorite lures on and off you'll get the feel and be able to slide them on and off blindfolded.
Whatever fish you are searching for especially on top-water using an assortment of lures will help you make that happen and make it easier for you to get those new lures wet and keeping your line in the water.
I love topwater fishing for great action try some of these for Striper or any predator fish:
  JimGalloway Author/Editor