With all the emphasis on water filtration, these days and the new technologies always changing, one ingredient stays the same, it's Activated Carbon. Activated Carbon sources have been mostly made from coal and wood but other new sources are being introduced in the water filtration industry with great success. One stands out. What is the Best Source of Activated Carbon?
Coconut Shell makes the best-activated carbon because of the amount of what is called micro-pores, the smallest type of pore. Coconut Activated Carbon can trap more VOCs & other contaminants in drinking water. It's hard which makes it last longer & is a renewable source that grows on trees.
Activated Carbon, "the Natural Wonder" is made from Carbon, one of the most abundant elements found on Earth. It exists in all organic compounds and is found in all forms of life. It plays a crucial role in the health, stability, and life of the planet.
What is the Best Source of Activated Carbon
Activated Carbon is a form of Carbon or Charcoal mixed and processed with a controlled amount of Oxygen. 
I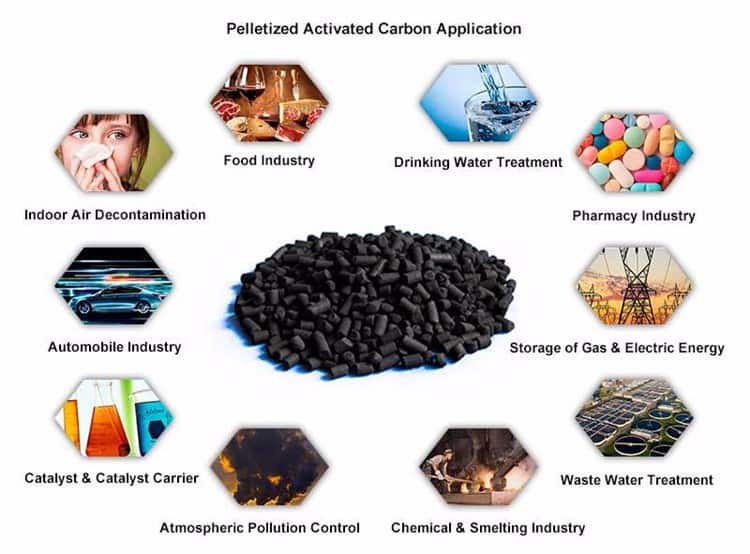 t's used in various methods and applications to purify water and air in products like water filters and air filters. It's used in the food and beverage industries. Activated Carbon can remove pollutants and improve odors.
It can be taken orally in the advent of poisoning and remove chlorine and other byproducts of drinking water to improve taste besides contaminants, like heavy metals, pesticides and bacteria, and emissions from Industries.
Activated Carbon is a Natural Wonder. It can clean water where the sources of drinking water are polluted and scarce. It saves lives by removing contaminants that would be harmful to populations of people around the globe.
When Carbon is processed to make Activated Carbon at controlled high temperatures, it opens up millions of pores between the atoms of the surface of the Carbon. This porous surface area creates an ability for the super tiny holes that are different size trap and filter impurities from air and water while allowing water and air to move through.
Activated carbon is the most common in-home water purifier. A large internal surface area of activated carbon makes it a very good adsorbent for many contaminants in drinking water. The sources of activated carbon are mostly, coal, coconut shells, and wood.
Activated Carbon Adsorption
Adsorption (Activated Carbon) is a method that is effective in removing certain organics (such as unwanted taste and odors, micropollutants), chlorine, fluorine, or radon from drinking water or wastewater. However, it is not effective for microbial contaminants, metals, nitrates, and other inorganic contaminants. activation thermal process, where volatile components are removed from the carbon-laden material (raw material) in the presence of oxygen increases it and makes it a lot better for the job adsorption
Contaminants in water are adsorbed (or adhered to) to the surface of carbon from a solution as a result of differences in adsorbate concentration in the solution and filters using Activated Carbon in the carbon pores. This is done by the process of Adsorption. Simply, the contaminants stick to the surface of the Carbon.
Difference Between Carbon Adsorption and Absorption
The difference is that in Absorption one thing absorbs another a sponge will absorb water in a bucket of water. In Adsorption, the material will stick to the surface of something else. This is what happens in a water filter using Activated Carbon.
The process of absorbing or assimilating substances into cells or across the tissues and organs through diffusion or osmosis, as in the absorption of nutrients by the digestive system, or absorption of drugs into the bloodstream. Both processes are an important function in all forms of science and Biology.