Water that families use for drinking at campgrounds and isolated areas around the country where there is no Municipal water supply or EPA standards relies on the owner of Private Wells for safe potable water supply. The standards are somewhat different for private Wells around the country. To be safe, EPA recommends that Campers and RVs have their own treatment system. What are the Best RV Water Filter Systems?
According to EPA, look for a reputable filter with a pore size of 0.2 microns or less. This size removes microbes & bacteria that are larger.
Filters are broken into 2 classifications:
Absolute 1- remove microns that are Giardia & Cryptosporidium microbes.
Absolute 2 type-removes part of the microbe.
Wells are normally filled by groundwater. Water that seeps down through the soil and gets trapped in pores and spaces above the dense rock barrier is called Groundwater that normally is used at campsites around the country.
How Does Giardia Get into Water?
Groundwater can easily become contaminated at any time with germs like Crypto when septic tanks fail or farm runoff happens. Septic System is by law restricted to around 250 feet from a drinking well source. This won't always be the case everywhere you go.
Giardiasis is the most commonly diagnosed intestinal parasitic disease suffered from travelers in the United States. Giardia is a disease caused by a microscopic parasite that feeds off the animal or person in order to survive.
The parasite lives in the intestines and it is passed and spreads in animals like deer, beavers, even dogs, and cats. Giardia can survive outside a host body for months and can be found in every region around the country and the world. There are other bacteria and contaminants that affect Well systems.
These contaminated are washed into the well from overflows from groundwater infiltration that is hard to monitor at the source unless it found in the scheduled testing that should be done at campgrounds.
The problem is groundwater finds its own way in and at different times during the year. EPA is responsible for overseeing the Public Water suppliers along with Well water providers that happened under Community providers but Campground is listed under Non-Communities and therefore is not under the watchful eye of EPA and Drinking water standards.
How Does Well Water Get Contaminated
A private well uses groundwater for a water source. Most Campsites use their own Private Wells to supply Water to campers and RVs. They are supposed to have them sampled but most can use them awhile before they are sampled by Health Departments and/or Private Laboratories.
There are many sources of contamination of groundwater that eventually end up in wells supplying campsites or RV/Trailor Parks. It's important that you have water Treatment Filtration inside your RV or Camper that can isolate the Campsite's water from your own. 
Naturally occurring Chemicals and minerals like Arsenic, Radon, & Uranium.
Sewer Overflows
Fertilizer, Pesticides from Farms, and Livestock feeding Operations.
Manufacturing Processes
Failed Septic Systems
Best RV Water

Filtration

Units
Most RVs and Trailers are headed on the road this season to find the peace and solitude of the Great Outdoors. The woods are awesome in late summer or fall. Americans love to camp and live for a short time in Nature enjoying the smells, views, taste, and feel of outdoor living.
Nature comes a few obstacles that always need to be addressed during your time away from the real world. One is Clean water. Always taken for granted but in the scheme of things a very important necessity for living on the or of the grade.
EPA recommends that you should use a Water Filter when traveling and drinking water from water systems that are not under control and aren't considered Community Systems.
Some treatment filters are more suitable for good contaminants than others would be to remove parasites like Cryptosporidium like Reverse Osmosis Water Filters.
According to EPA, You should look for a filter with a pore size of 1 micron or less. This will remove microbes that are 1 micron and larger that are in the water being processed. The Filter is  broken into 2 classifications;
 Absolute 1- This classification will consistently remove microns that are Giardia and                                                         Cryptosporidium microbes.

Absolute 2 type

– will only remove part of the microbe.
This 1 micron should be of interest to you on the road and staying at campgrounds that use Well Water for potable water supply. Water Filters that are reputable will have these contaminants tested, certified, and labeled appropriately.
Water Filter label Designed to Remove Crypto and Giardia Labeled with (any of these 4 messages)on the package
Reverse Osmosis (with or without NSF 53 or NSF 58

labeling)

Absolute pore size of 1 micron or smaller (with or without NSF 53 or NSF 58 labeling)

Tested and certified to NSF/ANSI Standard 53 or NSF/ANSI Standard 58 for cyst removal

Tested and certified to NSF/ANSI Standard 53 or NSF/ANSI Standard 58 for cyst reduction
Water Filter Labeled with these words May Not be designed to remove Crypto or Giardia
Nominal pore size of 1 micron or smaller
One micron filter
Effective against Giardia
Effective against parasites
Carbon filter
Water purifier
EPA approved (Caution: EPA does not approve or test filters)
EPA registered (Caution: EPA does not register filters based on their ability to remove Cryptosporidium)
Activated carbon
Removes chlorine
Ultraviolet light
Pentiodide resins
Water softener
Chlorinated
There are other Contaminants Found In Well Water.  Arsenic, Hepatitis A, Lead, Nitrate, Radon Salmonella, E.coli, and more besides Cryptosporidium and Giardia.
Water Filters should have these contaminants and more listed on the label. along with removal rates. To filter all the water, you will need a filter that is attached to the hose and filters all the water going into the holding tank of your RV or Camper. You may want to consider an RV inline water filter. RV inline water filters screw directly on the water outlet and then attach to the hose which runs to the camper from the campsite's water supply.
I would recommend the In-line fill, Water Filter, as a pre-treatment for sediment. Then a Reverse Osmosis Filter inside your RV for drinking and cooking.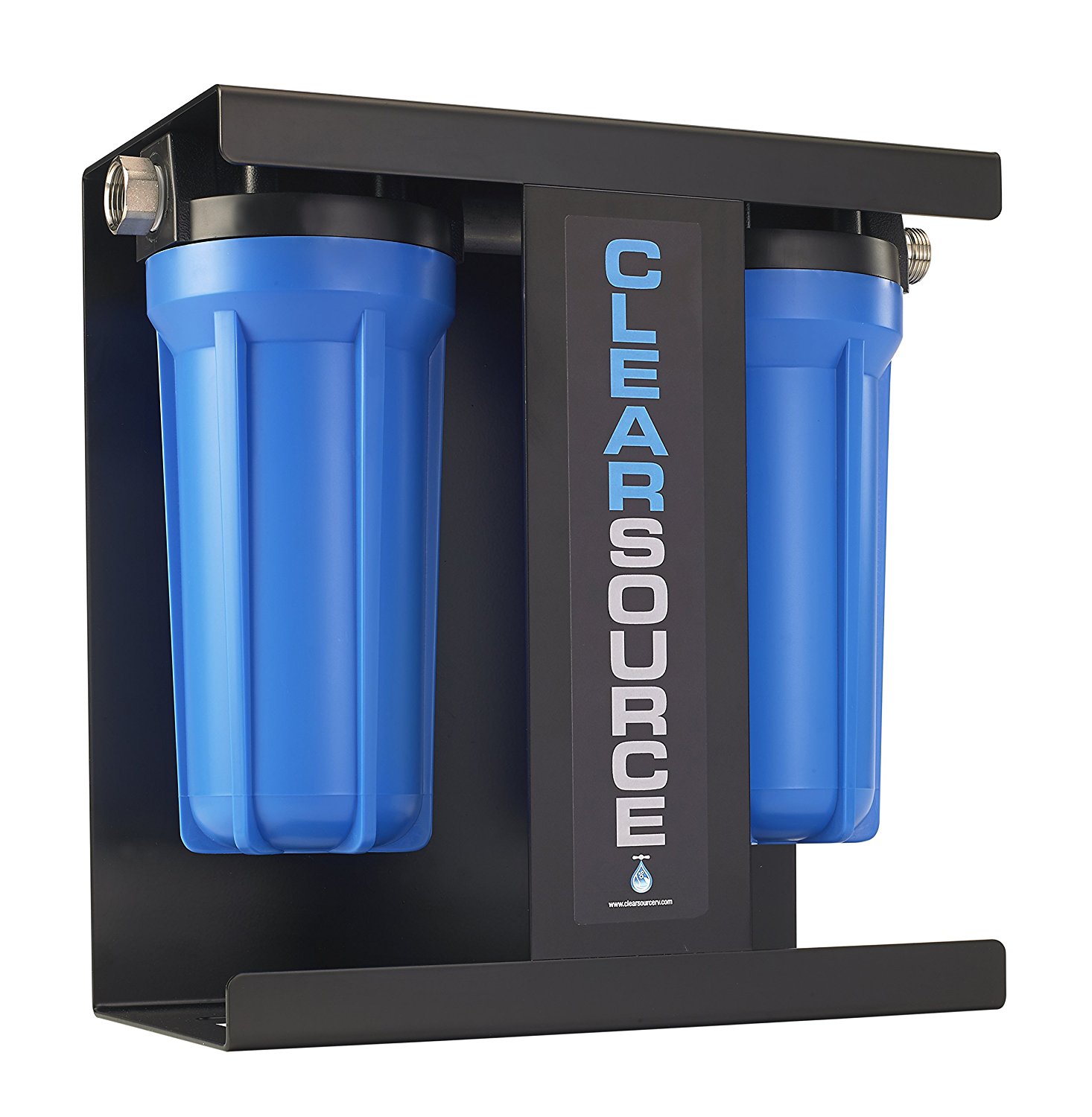 MyWaterEarth&Sky's Choice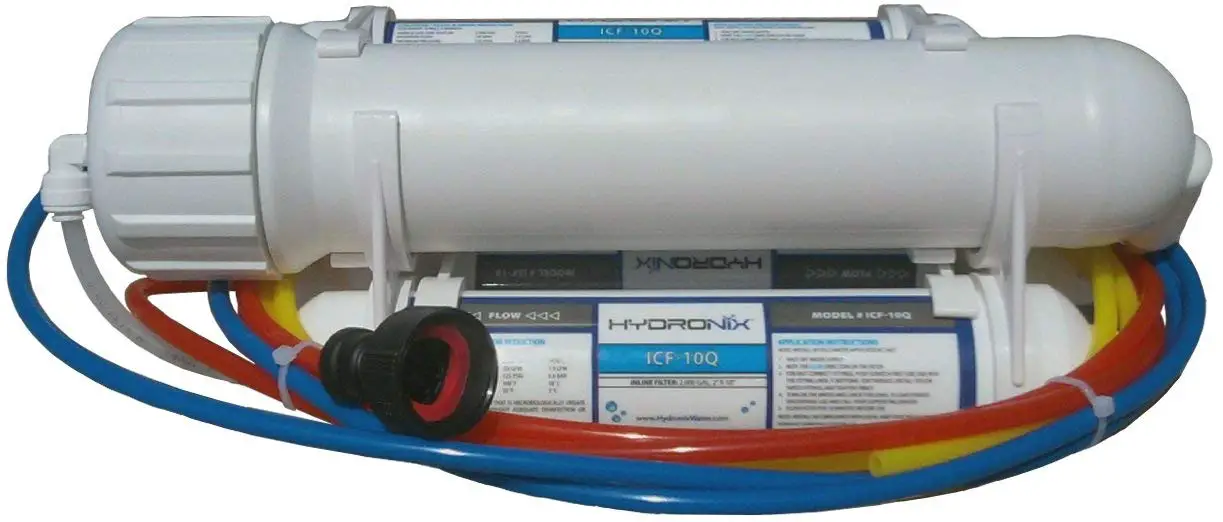 Berkey water filters have the ultimate protection from waterborne contamination of drinking water. Berkey is used worldwide to set the international standard for water filters used in clean or hostile filtration environments. This Purifier works anywhere anyplace needs no electricity or plumbing. People rave about the simplicity of operation. Gravity-fed with no moving parts to break.
Add the dependability of  this filtration systems to the flexibility to use them under a wide range of situations and environments and it is easy to see why so many people already turn to Berkey for their water filtration needs. Available Through MyWaterEarth&Sky on our Recommended Product Page.
Essential RV Water Filter System with Hose Fittings – Premium RV Water Filtration System with Cyst Removal Removes cysts, sediment, and chemicals from your water before it enters your RV
Heavy-Duty, Lead-Free Hose Fittings
Premium Filter Housings
All Filters included with spare 1 micron.
The  Essential System has been the best seller for RV Water Filter Store for many years. This system comes fully assembled and ready to use with hose fittings for easy connection to the external water source.
The two canister system houses a 1-micron sediment filter to remove floating particulates down to 1 micron, then a class 1 modified carbon block filter, which removes cysts (giardia and cryptosporidium), Chlorine, VOC's, taste/odor issues, and pesticides.   
While the water flowing in the streams and rivers of the backcountry may look pure, it can still be contaminated with bacteria, viruses, parasites, and other contaminants.
When planning on camping or hiking, it is important to remember your water needs. There are many approaches you can take to providing yourself and others in your group with safe water for both drinking and sanitation.
With the availability of excellent water filtration units either portable or home systems. The tools are here and in place to ensure clean fresh drinking water. There is no need to not to have it. We still need to educate ourselves not to be naïve to think that all water is clean just because it flowing from a faucet or hose at a campsite, gas station, or even a restaurant.
The truth is that a lot of public places today have what the EPA calls Private Water Systems water that doesn't meet the criteria to be considered safe and the providers are not under jurisdiction to report to State or Federal agencies. Even though they may try to do the right things. What was safe last month, might be or might not be safe today.
Having been sick myself by what was probably Crypto or Giardia infection(Beaver Poop)  in the well water at the Pocono Mountains 40 years ago. I wouldn't want to go through being that sick again. I know my family still talks about how sick we all were. Back then, Nobody knew why.
References:
Center for Disease Control and Prevention -What are Public Water Systems.
Jim has been involved in Water/Wastewater Treatment and Water Filtration Equipment for more than 30 years for the State of Pennsylvania and NPDES for EPA-He has held Class A State Certifications as an Operating Consultant and written over 300 articles on the Worldwide Water Situation.